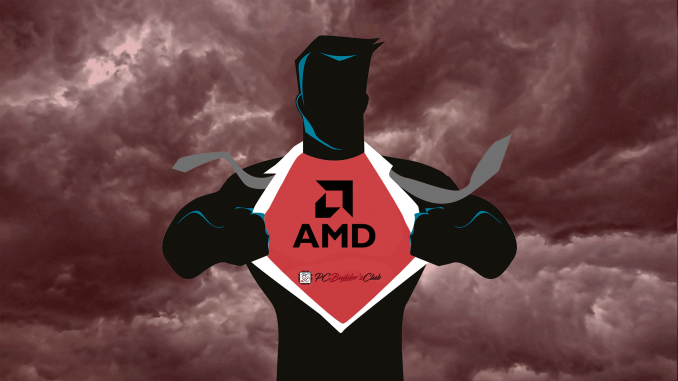 AMD apparently starts a major offensive at CES 2019. The company allegedly launches Ryzen 3000 CPUs and APUs and a new Radeon GPU at the fair.
AMD starts 2019 with 7nm
For AMD, the 7nm process is probably one of the most important technological advances in recent years. The processor architecture Zen as Zen 2 as well as the graphics card architecture with Vega 7nm (or Vega 2) and Navi will be based on the even smaller production process. The company has already started with the introduction of the Epyc 2 processors, which are equipped with the new Zen 2 Dies and therefore contain up to 64 cores. Vega has also reissued AMD as a 7nm graphics card for the server market. The architecture could soon come as Vega 2 in the consumer market, but is rather something for the professional market or Apple devices.
In the year 2019 the 7nm machine will start to run completely. AMD is bringing several new products onto the market. According to current knowledge, the third generation of Ryzen, called Ryzen 3000, is planned. It also includes the Zen 2 architecture with 7nm processors and could come with up to 16 processors, as a big leak reveals. Another important product will be Navi. With the graphics card architecture, AMD is also switching to the 7nm structure width in the gaming sector. The RX 3080 should even come close to the RTX 2070 from Nvidia. Also a chip with even more performance is supposedly planned. The colleagues from wccftech have now received information that AMD might launch some of these innovations at CES 2019.
Ryzen 3000 and a new Radeon graphics card at CES 2019
The year 2019 will probably begin at the Consumer Electronics Show 2019 in Las Vegas in the sense of the presentation schedule. The world's largest trade fair for consumer electronics is often used by manufacturers to introduce new products to the market. This date will also be used by AMD, as rumor has it a few months ago. wccftech has now received further information on what exactly is going to happen at CES. On the one hand the new Ryzen 3000 series will be presented. The planned processors are already leaked. However, it is exciting that AMD will also present the new Ryzen 3000-based APUs. Vega is supposed to be used as the graphics unit and not, as often assumed, Navi.
Another exciting detail is that the company will also introduce a consumer graphics card. wccftech does not mention in the report that the architecture is Navi. Instead, Vega 2 is supposed to be a consumer version of the already introduced Vega 20 chip which is featured in the Radeon Instinct cards. How much performance Vega 2 delivers is still completely unknown. It is also possible that it is already a Navi derivative. Exact details will probably not be revealed until CES 2019.