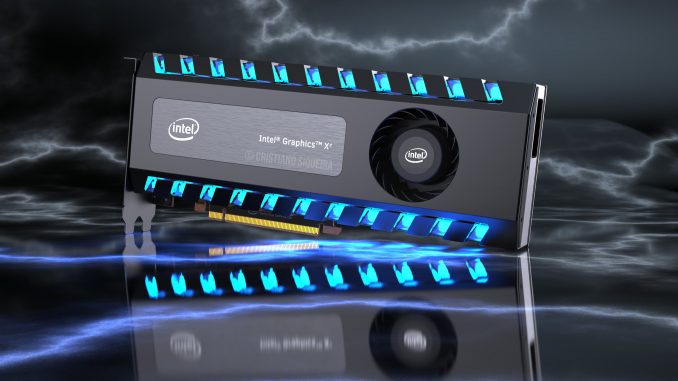 The dedicated Intel GPU called Intel Xe comes in 2020. A designer has now created a rendering that gives a preview of the upcoming GPU.
Intel Xe comes in 2020
At Architecture Day, Intel recently gave the first concrete details on its entry into the graphics card market. The graphics cards are therefore called Intel Xe (self-spelled with superscript e) and are to be launched not only for the data center sector, but also for consumers. In the presentation, Intel specifically mentions the end customer market, even in a fairly broad spectrum. Xe will not only be used in the embedded segment as the successor of the iGPU, but also as a dedicated graphics card in the mid-range and even enthusiast segment. Therefore a certain design is probably also an important aspect. 3D artist Cristiano Siqueira has now posted a concept design from Intel Xe.
Black design in the style of Optane
The artist took some design aspects of Intel and created a concept for Xe. Siqueira has based the graphics card on the Optane memory series. The graphics card has a radial design and a matt black finish. The sides are bevelled and equipped with 22 blue LED elements as an optical enhancement. A matt backplate with a large Intel Xe logo is mounted on the back. The design gives a good idea of how Intel could design the upcoming Xe graphics card.