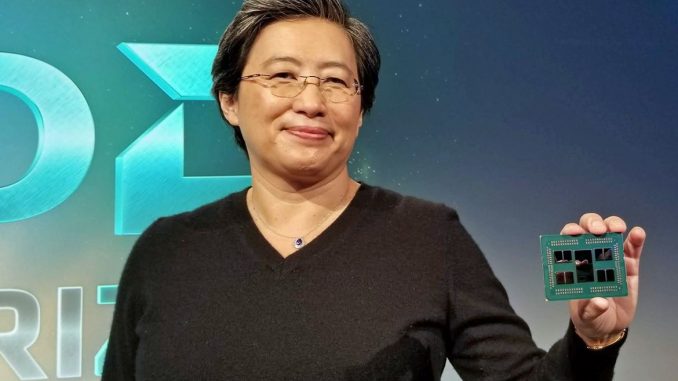 Lisa Su is probably the most successful AMD CEO ever. Nevertheless, she is probably planning to join IBM. Her successor could be Rick Bergman.
Update: Lisa Su denies report by wccftech
Lisa Su herself reacted to the report by wccftech on Twitter. In her message on the short news service she says that there is no truth in this rumour. She loves AMD and the best is yet to come.
Lisa Su, a success of her own
In the tech industry, women generally don't have it as easy as men. This is due to outdated role models, a lack of interest or even men's prejudices. Lisa Su, CEO of AMD, has defied all these prejudices and is probably one of the most brilliant and well-known CEOs in the tech world. The rise of the Taiwan-born American began at the Massachusetts Institute of Technology in the USA, where she studied Electrical Engineering and Computer Science. Su graduated from MIT in 1994 with a PhD in Electrical Engineering.
Su then began her technical career at Texas Instruments. Soon she was enticed away by IBM, where she worked in research and quickly rose to the position of Vice President of Semiconductor and Development. At IBM, Lisa Su played an important role in copper connections for semiconductors. This technology became the new industry standard. From 2000, Su worked as a technical assistant for the IBM CEO Lou Gerstner. In this function she founded the IBM Emerging Product Division, which enabled Lisa Su to make important progress in the field of processors. 2006 she returned to IBM as Vice President of the Semiconductor Research and Development Center. In 2007, Lisa Su joined Freescale Semiconductor as CTO and later Senior Vice President and General Manager of the company's network and multimedia group. Su joined AMD in 2012. She was significantly responsible for the company's diversification in the PC market. Lisa Su is also responsible for the collaboration with Microsoft and Sony for the Xbox One and PlayStation 4 consoles.
On October 8, 2014, Lisa Su finally took the position of President and CEO at AMD. Since then, she has had a significant impact on the company's business. Under her leadership, the areas that made AMD successful in the market again were expanded. In addition to business with APUs for Sony and Microsoft game consoles, the Zen architecture and the Radeon division have led AMD out of a small crisis. Lisa Su also played a major role in this.
Lisa Su allegedly joins IBM
The success of the AMD managing director did not remain undiscovered, of course. When in 2018 the Intel CEO at the time, Brian Krzanich, resigned after an affair with an employee, there was a rumor at the beginning of 2019 that also affected Lisa Su. According to the rumor, the Intel board wanted to recruit the AMD boss as CEO. If necessary, the company would have simply bought the smaller competitor. However, this was an unfounded rumor that was circulated at CES 2019. Intel's CEO became Robert Swan, who had previously been the interim CEO.
However, AMD does not seem to be the final destination for the talented tech manager. Now there are rumors again that Lisa Su could leave the company. The clues come from Usman Pirzada of wccftech. According to his own sources, which are also said to have indicated the already confirmed transfers of Raja Koduri, Mike Reyfield, Jim Anderson or Frank Azor, Su is currently looking for a new position. The talk is that she will join IBM as number two and could later also become CEO there. Su would replace Ginni Rometty on this position. According to the sources it is already longer her desire to move again to IBM. Su does not leave the company overnight, but with a longer transition phase. This should take place this fall.
The successor is Rick Bergman
As a basis for this change, Lisa Su is already establishing a successor for the CEO position. This is allegedly Rick Bergman, the former CEO of Synaptics. The manager worked for AMD for a long time and is considered a veteran in the field of graphics. He joined the company when ATI was acquired by AMD in 2006. From 2011 onwards, Bergman led Synaptics' fortunes. Only yesterday, however, AMD announced that Bergman was returning to the company. He replaces Sandeep Chhennakeshu, who joined at the beginning of the year, as Executive Vice President of the computing and graphics business.
The change seemed to have taken place with some consideration for the CEO position. According to Pirzada's sources, Rick Bergman will take over from Lisa Su. He has 90 days to do this before Su joins IBM.
We would like to point out once again that this is a rumor. Neither AMD nor our sources have confirmed that Lisa Su is actually joining IBM.