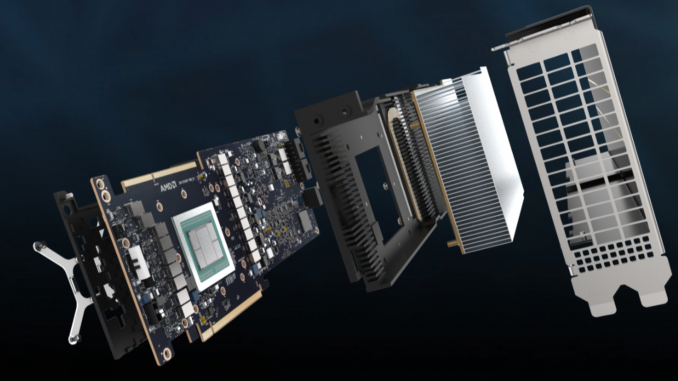 At the Next Horizon event, AMD introduced the Radeon Instinct MI60. The server GPU comes with Vega 20 architecture, 7nm structure width and 32 GB HBM2.
Vega comes with 7nm
Today AMD released several details about Vega 20 and Zen 2 to the public at an event called Next Horizon. In the future, the company will focus on the 7nm structure width. The first step will be taken by the graphics card division. AMD has redesigned the Vega architecture, which already exists since 2017, as Vega 20. However, instead of the 14nm structure width, the company now uses 7nm and has also changed a lot under the hood.
Radeon Instinct MI60: More memory, more performance
Due to the smaller structure width there are several advantages. On the one hand the die is smaller. Instead of a 486 mm² die a die with 331 mm² will be used now. On the other hand more transistors fit on the same area. Instead of 12.5 billion transistors, 13.2 billion transistors are now in use. The clock rate has also risen from 1,500 MHz to 1,800 MHz. The number of stream processors has remained the same with 4,096, thus also the number of 64 CUs. AMD also introduced a smaller version called MI50, which has 60 CUs. Through all these small improvements, the Radeon Instinct MI60 now achieves 14.8 TFLOPs in FP32, while its predecessor MI25 only achieved 12.3 TFLOPs. According to the name, the FP16 performance is supposed to be 60 TFLOPs.
AMD has also made some changes to the memory. HBM2 is still in use, but now 32 GB instead of 16 are connected. AMD uses four stacks of 8 gigabytes each. The memory clock has increased from 945 MHz to 1,000 MHz, now a 4,096 bit interface is used for the connection. This increases the memory bandwidth to a whole 1TB/s, more than twice the value of the MI25. The interface of the Radeon Instinct MI60 is also important in server environments. Vega 20 already uses PCIe 4.0. The scaling is also supposed to be very good. A combination of four graphics cards will scale almost linearly, with eight graphics cards the scaling will still be very good.
The Radeon Instinct MI60 and MI50 are scheduled to be delivered to the first companies before the end of 2018. In the presentation, another graphics card with the placeholder designation "Mi-Next" for the year 2019 was also mentioned, which is then probably based on Navi. But until then it will take some time. Navi starts in the Mainstream at the earliest in Q3 2019.