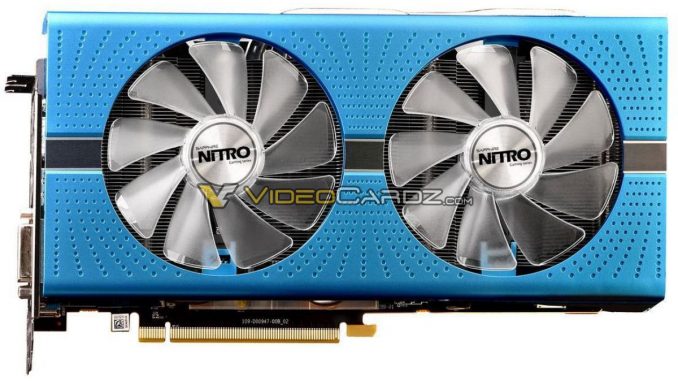 The upcoming Polaris 30 graphics card RX 590 is slowly getting more and more interesting. Now the Nitro+ design from Sapphire has also been leaked.
RX 590: a last refresh before Navi
AMD is currently rather badly than quite positioned in the graphics business. While Nvidia continued to deliver with Turing, especially in the high-end sector, Radeon innovations are missing. Although the company has just introduced Vega 20, the first 7nm graphics card, the architecture comes only for the server market. Meanwhile, gamers are left empty-handed. This does not have just disadvantages, because Navi, which also comes with 7nm structure width, is probably already better optimized, but the impression of missing products remains nevertheless. Until Navi comes on the market, it still takes until the second half of 2019. The graphics card might be faster than the RTX 2080, but until then it simply takes too long.
As a bridge AMD is now actually sending another Polaris refresh into the race. More specifically, it's all about a RX 590 equipped with the Polaris 30 chip. This is a slight further development of the Polaris 20, which was used in the RX 580. The biggest difference is the structure width. AMD switches from 14nm to 12nm. Thereby the performance should increase slightly. The RX 590 could be 11 to 17 percent faster according to the latest benchmarks. Nvidia has already reacted to the new graphics card and brings the GTX 1060 with GDDR5X memory and probably also the GP104 GPU of the GTX 1080 onto the market.
Sapphire RX 590 Nitro+ Special Edition leaked
AMD is currently preparing for the launch of the new graphics card. Custom designs from Asus and PowerColor have already been leaked in the past. Videocardz has now also got the pictures of a Sapphire RX 590 Nitro+. The manufacturer is probably launching several versions of the graphics card, including the Special Edition. As usual, this comes with a metallic-blue cover and two transparent fans. How much clock the Sapphire RX 590 Nitro+ Special Edition works with is not yet known. The launch date for all RX 590 GPUs is still November 15th.
f