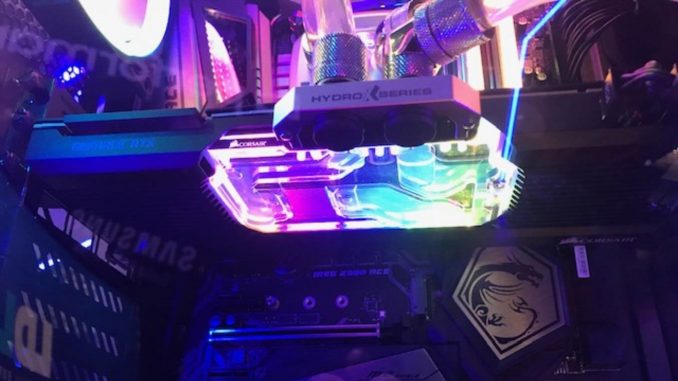 Corsair is entering the custom water cooler market. Water blocks, reservoirs and radiators will soon be available under the Hydro X brand.
Corsair enters the custom water cooler market
The American manufacturer Corsair already produces a large number of PC components and accessories and is constantly expanding them. For example, monitors will soon be added to the portfolio. In addition to power supply units, RAM, SSDs, cases and peripherals such as mice, keyboards and headsets, the company is currently also producing very popular all-in-one water coolers. Corsair now seems to be expanding this market as well. At the Paris Games Week, computers with water coolers were already on display. However, these were not the well-known All in One coolers, but components for custom water cooling. Corsair had already announced a water block for the RTX 2080 in August, but there seems to be more to come.
Hydro X: Water Blocks, Reservoirs and maybe Radiators too
The computers exhibited at the show were equipped with Corsair's unpublished water cooling components. On the photos of Cowcotland.com you can see the computers in detail. The graphics card is equipped with an RGB water block with the lettering "Hydro X". The block for the CPU is also equipped with RGB lighting and a glass window. The shape is reminiscent of the pump heads of the Hydro series. The RGB lighting can also be controlled with the company's own iCue system. The photos also show an angular reservoir with integrated pump and RGB lighting. It does not have a Hydro X lettering, but the shape continues the design of the CPU cooler. There's also a radiator in the system, but it's unclear whether it's from Corsair. The lettering on the side reminds us of this, but we can't clearly assign it. The components are connected with soft tubes. Whether the tubing and fittings also were made by Corsair is also unknown.
When the company will present the Hydro X components to the public is not yet known. An obvious date, however, would be the Consumer Electronics Show at the beginning of January 2019. It has been clear for some time that Corsair also wants to enter the custom water cooler market. The manufacturer has recruited employees from the renowned water cooler manufacturer EK Water Blocks.