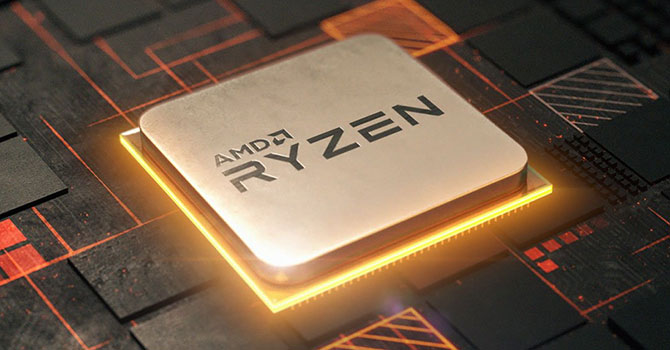 AMD is apparently planning another chipset for Ryzen 3000. The X590 chipset is supposed to place itself above X570 and probably offers more PCIe 4.0 lanes.
X590: another chipset above the high-end chipset?
With the Ryzen 3000 generation, AMD has also announced the introduction of new chipsets and new motherboards. The X570 chipset brings some new features, especially support for PCIe 4.0. AMD developed the X570 on their own. Even before Computex 2019, the first motherboards were leaked, almost all of them with a small fan above the chipset. The new chipset has a thermal waste heat of 15 watts, significantly more than its predecessor X470, which only has a solid 5 watts of waste heat. Therefore, active cooling is usually necessary under load. However, X570 is apparently not the highest chipset, despite very high prices for the mainboards.
The rumors were started by the developer of the popular DRAM Calculator for Ryzen, nicknamed 1usmus. In a recently deleted tweet he announced the X590 chipset as a new high-end chipset even above X570.
AMD X590 and more possibilities coming soon 😉pic.twitter.com/8vr3HmY3qA

Юрий (@1usmus) via Twitter, post deleted by now.
A user of the ComputerBase forum finally gave the critical hint. The chipset is also mentioned in BIOS files of gigabyte mainboards.

More PCIe 4.0 lanes for X590?
What exactly X590 is intended to offer more than X570 is currently still pure speculation. The officially known high-end chipset already has it all. AMD has released up to 16 PCIe 4.0 lanes, which are responsible for the ports, PCIe slots and M.2 connections. This is the I/O die, which is also responsible on the processor itself for managing the memory and the connections in the form of PCIe 4.0 lanes. As an X570 chipset, memory management is deactivated, only the PCIe 4.0 lanes remain. And this is where speculation about X590 gets involved. The I/O die of the Ryzen 3000 processor offers a total of 24 PCIe 4.0 lanes. X570 is connected with four lanes and offers 16 lanes, which is why 4 lanes are idle deactivated. The X590 chipset could now also get the last four lanes, which would allow more slots or for example another M.2 SSD.
Whether the chipset will actually be released on the market is questionable. Already at Ryzen 2000 there was information about a chipset named Z490, which never saw the world in the form of a finished motherboard. Also with X590 the plan could be there, but not be realized. X570 also appears in very expensive high-end versions, therefore the demand for motherboards with an even higher chipset should not be that high.