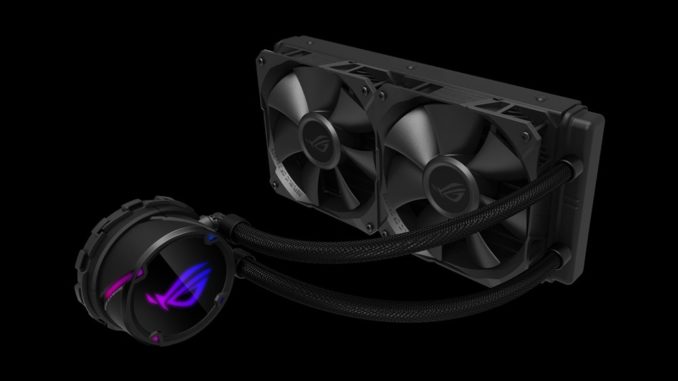 Asus has entered the market for water coolers with the All in One coolers Ryuo and Ruyjin. The Asus ROG Strix LC series offers even cheaper spin-offs.
Republic of Gamers in almost every computer part
At Computex 2018 Asus presented the two All in One water cooler series ROG Ryuo and ROG Ryujin. In addition to their high performance, they are intended to stand out above all for their unique design. The central point in the system on the pump is a freely configurable OLED display. It can display either logos, animations and your own images or system values such as the temperature of the processor. The AiO itself is a common industry standard and is produced by Asetek. The Ryuo uses fans developed internally, while the larger Ruyjin uses fans from cooling specialist Noctua.
Asus is thus expanding its portfolio decisively. There is almost no PC part left that can not be purchased in the Asus ROG design. At the same time as the AiOs, the company also announced the ROG Thor power supplies and the ROG Strix Helios case. These are high-quality components, but they also come at a price. The AiOs are also quite expensive. For more price-conscious ROG fans, Asus announced the new ROG Strix LC series just over a month ago.
ROG Strix LC: like ROG Ryuo, only without OLED and cheaper
For many the crucial point with the new ROG-AiOs was probably the price. The ROG Ryuo and Ryujin start at the smallest model with 140 respectively 200 Euro . The new ROG Strix LC series will now undercut these prices. From the construction the ROG Strix LC-AiOs are very similar to the Ryuo series. So the same construction with a round pump head is being used. However, a striking design element is missing. The OLED panel, on which otherwise the ROG logo or a desired image file appears, does not exist on the ROG Strix LC models. Instead, there are RGB strips and an RGB-lit ROG logo, which cannot be changed. Asus has continued with the RGB theme. The standard model still comes with the well-known black fans from Asus itself, but later there will also be a version with RGB-illuminated fans. These models are not listed yet.
The new AiOs will be available in three versions. The two models with 120 and 240 mm radiators will make the start, and a version with a 360 mm radiator surface will follow later. Asus calls for an MSRP price of $119.99 or $149.99. That makes them less expensive as the current best ROG Ryuo offers. The price will of course fall as time goes by. The AiOs are also expensive compared to other models. For example, the 240 mm model of the NZXT Kraken series costs considerably less.