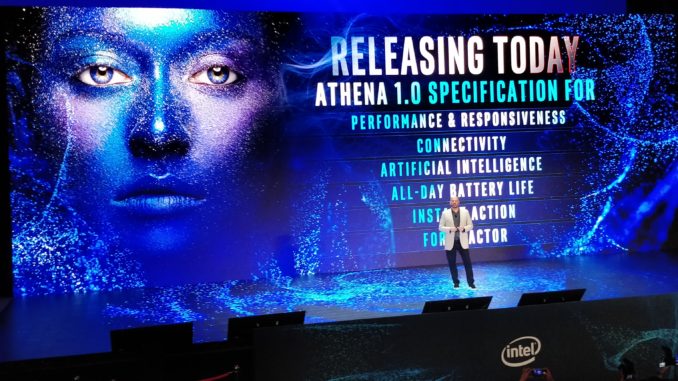 The upcoming Intel Ice Lake architecture has a 10nm structure width for the first time. How much the processors perform is now shown by a leaked benchmark.
10nm: Intel's biggest leap in years
Already since 2015 Intel has announced that it will soon switch to the 10nm structure width. After eternal postponements, the time has come at the end of 2019. Ice Lake is the name of the first generation to use the 10nm process on a large scale. The new architecture behind it is called Sunny Cove and brings structural changes. The main objective is again to increase the IPC, i.e. the Instructions Per Cycle. The higher the IPC, the more powerful the processors are, even at low clock rates. This benefits either efficiency or performance – depending on the area of application.
At the beginning the 10nm structure width starts only for notebook processors. Intel and its partners will launch the first products with Ice Lake processors for the Holiday Season 2019. With Project Athena, there is also a new standard which, like the Ultrabook standard a few years ago, is supposed to initiate a new era for notebooks. The basis for this are the powerful Ice Lake processors.
Ice Lake with 40 percent more IPC than Skylake
It has been known for some time that Intel is extremely good at optimizing. For years, the company has been making the most of its 14nm architecture with the Skylake, Kaby Lake, Coffee Lake and Coffee Lake Refresh generations. With Comet Lake and Rocket Lake, two more generations with 14nm will follow, before the desktop processors can change to 10nm as well – but this will probably not happen until 2022. How much the smaller structure width would also bring for the desktop CPUs is shown by a leaked benchmark.
As wccftech reports, a user of the Chinese forum Baidu has posted the CPU-Z singlecore benchmarks of several processors including unpublished models. These also include the results of the Intel Core i7-1065G7 with four cores and eight threads at 3.7 GHz as well as an engineering sample with six cores and 12 threads at 3.6 GHz. The two processors achieve 639 and 630 points, respectively, and are thus above the i9-9900K at 5.0 GHz (600 points), the i7-8700K at 4.8 GHz (575 points) and just behind the i7-9700K at 5.3 GHz (645 points). The numbers are extremely impressive, especially when you consider that these are processors with 15 watts of TDP.
It is difficult to verify how authentic the information is. However, since Intel has worked hard on the IPC, which is up to 40 percent higher than Skylake's and runs 18 percent faster on average, these results are quite realistic.