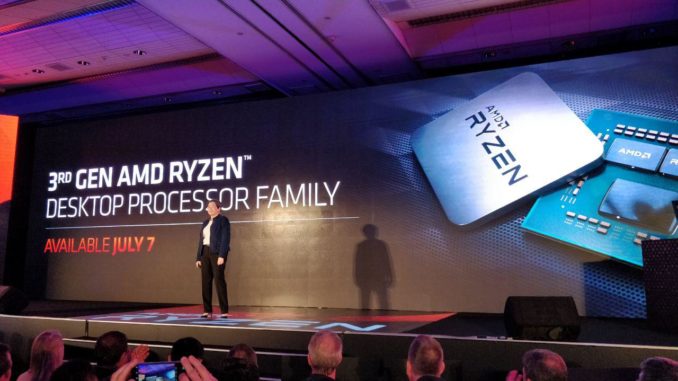 Ryzen 5 3600 and 3600X come with six cores and launch with their brothers. Also compatibility information of Ryzen 3000 on older motherboards is available.
Ryzen 5 continues with six cores
Lisa Su presented the new Ryzen generation on today's AMD keynote. Ryzen 3000 now comes with up to 12 cores, higher IPC and higher clock rates, while power consumption is said to have decreased or remained the same. Below the Ryzen 9 3900X there is also the Ryzen 7 family, which still comes with eight cores. However, the Ryzen 5 family was missing at the keynote. On the AMD website, however, the processor family is already listed with technical data.
The two models Ryzen 5 3600 and Ryzen 5 3600X remain the same. These still come with six cores and 12 threads. The Ryzen 5 3600X comes with 3.6 GHz base clock and 4.2 GHz boost clock. The Ryzen 5 3600X adds another 200 MHz, coming with 3.8 GHz base clock and 4.4 GHz boost clock. As in the previous generation, the TDP remains at 65 or 95 watts. The cache has increased to 35 MB. If the last leak is correct, even the smaller Ryzen 5 3600 achieves a higher performance than the Ryzen 7 2700X. Only the prices are still unknown.
X570, X470 and B450 guaranteed compatible, X370 and B350 only with beta update
AMD has also provided compatibility information on the website. The chipsets X570, X470 and B450 are guaranteed to be compatible with Ryzen 3000. The situation is different with the first generation. X370 and B350 mainboards are only compatible with a beta BIOS update, A320 mainboards are generally not compatible. Basically, it depends on the motherboard manufacturer whether the new processors are also compatible with first-generation motherboards. It is also pleasing that PCIe 4.0 support for the first x16 slot, which is usually bound directly to the CPU, is also available on older motherboards.
There is also a restriction in the other direction. Thus, the processors and APUs of the first Ryzen generation cannot be used with X570 despite having the same socket. The second generation, on the other hand, runs smoothly.