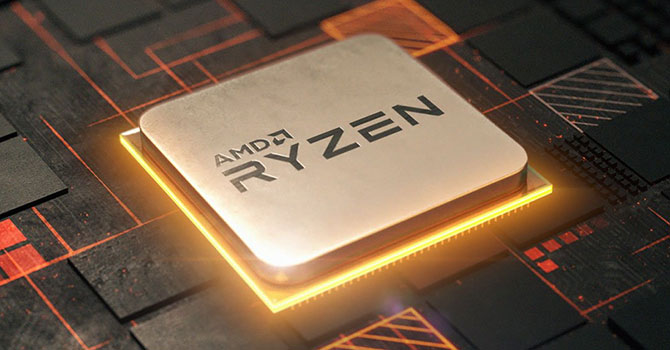 An unknown Ryzen 3000 processor with six cores and 12 threads has appeared in the Geekbench database. It even beats on the Ryzen 7 2700X.
AMD not only tunes on the clock, but also on the IPC
Tomorrow AMD starts Computex 2019 in Taipei with a presentation at the CEO Keynote. Everything indicates that the company is introducing the new Ryzen 3000 generation. Instead of 14 resp. 12nm it now comes with 7nm production width from TSMC and has a lot to offer. In addition to up to 16 cores on an unchanged AM4 socket, the clock rates are also said to have increased considerably. The top model should be called Ryzen 9 3850X, be equipped with 16 cores and clock up to 5.1 GHz. This is not confirmed and even leaks so far show only a 16-core with up to 4.2 GHz clock speed. A potential Ryzen 7 3700X with 12 cores should clock at 5 GHz.
What many forget, however, is the IPC. This, too, is said to have risen considerably with Ryzen 3000, according to initial reports by a good 15 percent. This is also confirmed by leaked entries in the UserBenchmark database. Now there is a new leaked benchmark of a six-core processors, which confirms this again impressively.
Ryzen 3000 hex core at 4 GHz as fast as Ryzen 7 2700X
A suspicious entry has appeared in the GeekBench database. It is an unknown Ryzen processor with six cores and 12 threads. The processor clocks to 3.2 GHz in standard mode and just under 4 GHz in boost mode. The code name is "Matisse", which definitely indicates Ryzen 3000. The entry was once again found by TUM APISAK, considered a reliable source.
The special thing about the score is the comparison to the current flagship Ryzen 7 2700X. In Geekbench it scores 4,923 points in the singlecore and 25,209 points in the multicore test. This six-core beats both results despite a lower clock rate. If the leaks are correct, an entry-level model could also hide behind this processor. As always, it is difficult to say whether the result is authentic. It should also be noted that the Ryzen 3000 processor is faster only in this one specific benchmark. We'll find out if the result is right at tomorrow's keynote of AMD at Computex 2019 at the latest. We'll be there live and reporting for you!