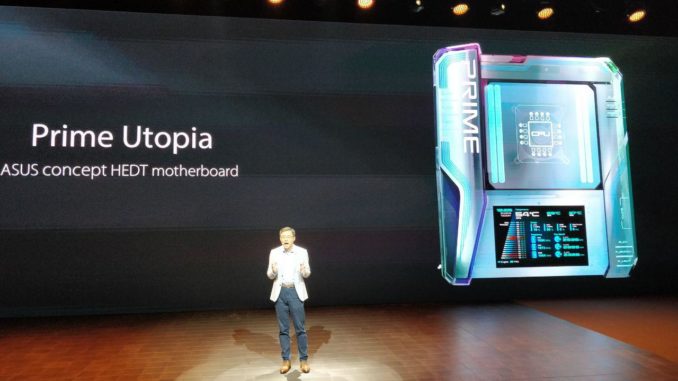 Asus presented a concept for a mainboard at today's keynote. The Prime Utopia comes with flexible I/O ports and GPU on the back.
Prime Utopia: This is how Asus imagines the ultimate motherboard
Asus presented several new products on its own keynote under the slogan "Wiser Together". In addition to a laptop with two screens and three products on the occasion of the 30th anniversary celebration, there was also a mainboard concept to be seen. This concept bears the name Prime Utopia and represents what Asus envisions for the motherboard of the future.
The main focus is on cooling. The concept provides up to four M.2 slots, all of which can be efficiently cooled with one fan. For optimization, there should be a PCIe slot at the back to mount the graphics card on the back. The VRMs cooling also moves to the rear. Also the fan control should be taken over more from the mainboard. Asus introduces fan headers with support for up to three fans.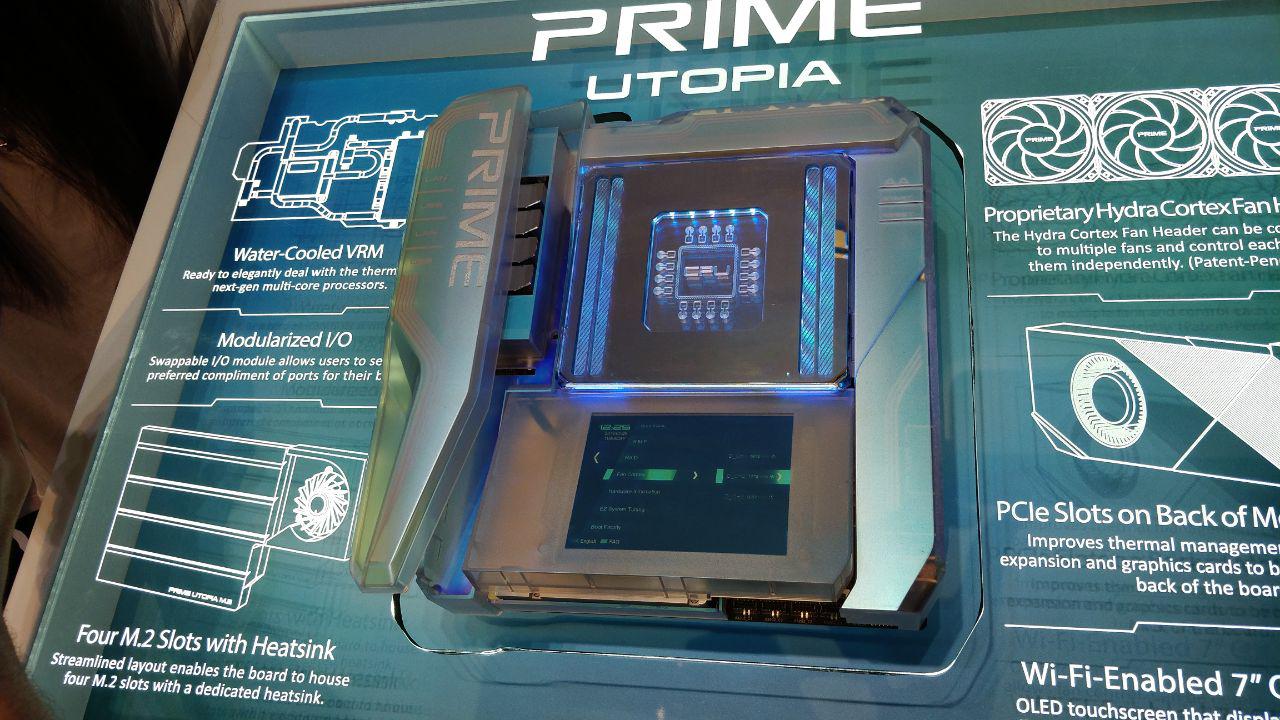 Flexible I/O ports and flexible monitoring display
But the really special thing is the flexible I/O. While conventional motherboards have the rear connectors always permanently installed, the concept is to make some ports easily exchangeable. This allows various configurations with more USB ports, additional or faster Ethernet ports or WiFi and audio extensions to be implemented and individually adapted.
Much less utopian and definitely useful would be a built-in monitoring display. Many PC enthusiasts integrate such a display into the case themselves. At Prime Utopia this display is already built into the motherboard. It is a 7 inch OLED display, which is connected to the motherboard via WiFi and constantly displays different monitoring values of the motherboard. The display can also be removed and placed on the table.
All in all, Prime Utopia doesn't even seem so far-fetched. Features such as the display, flexible I/O ports and expansions on the back could play a role in the future. Whether Asus plans such a motherboard in the near future is still unknown. In any case, you would need a separate case and probably also some separate components.