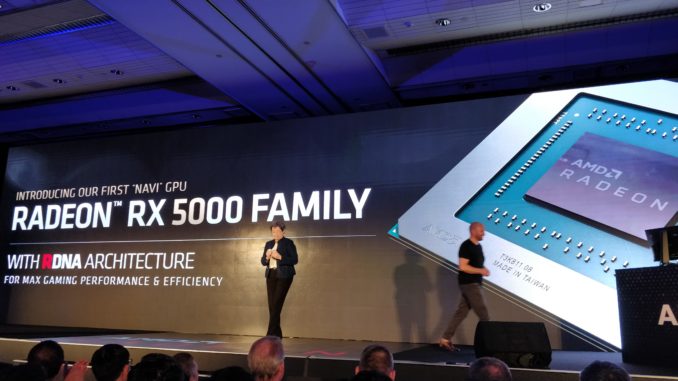 AMD gave a preview of Navi at Computex 2019. The GPUs are called Radeon RX 5700 and come with a new RDNA architecture and PCIe 4.0.
Navi: new RDNA architecture with strong improvements
At Computex 2019 AMD has released the first details about the new graphics card generation called Navi. Lisa Su surprised the entire press with a completely new architecture. While everything suggests in advance that Navi is the sixth generation of Graphics Core Next, AMD has taught us better. Navi comes with a new architecture called Radeon DNA or RDNA for short. They dared to take the step of changing in order to open up new perspectives, Lisa Su explains. As with the first generation of Zen, it simply needed a new way of thinking.
The new RDNA architecture is especially designed for a high IPC. There is a new Compute Unit design, but AMD doesn't go into detail. The instructions per cycle are especially important for efficiency and performance. AMD has also made changes to the cache. Thus, multi-level cache is used. According to the company, the optimizations should lead to significantly better performance. So Navi has 25 percent more performance with the same clock rate. The performance per watt has also increased and is 50 percent higher compared to Ryzen. Another feature is the support of PCIe 4.0. This is probably also happening with regard to Ryzen 3000, the first consumer processor platform with PCIe 4.0.
The GPUs are called Radeon RX 5700, faster than RTX 2070
AMD also surprises with the name. Many assumed that AMD would name the graphics cards similar to Nvidia. Nvidia had promptly registered the trade marks 3080, 4080 and 5080 on May 1st in order to forestall AMD. However, the name is completely different. The new Radeon generation is called the RX 5700, a name that alludes to the company's fiftieth birthday. AMD doesn't define whether the RX 5700 is a graphics card or several models, but it does mention "Radeon RX 5700 Series" several times, which is why it is probably the name of the product family.
There was also a performance demonstration at Computex. AMD compared a system with RX 5700 GPU to a system with RTX 2070 in the game Strange Brigade. The AMD system achieved a good 10 percent higher performance than the system with RTX 2070.
Presentation with exact details at E3, market launch in July
There were also some details about the market launch. This is to take place in July. AMD doesn't give an exact launch date, but a joint launch with Ryzen 3000 on July 7th could be realistic. Details of the individual graphics cards and exact details will be available at the Next Horizon event at E3.