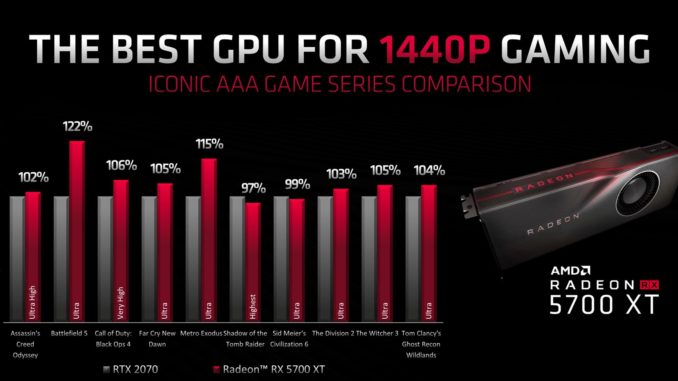 Before the presentation of the Radeon Navi series a further presentation slide leaked out. AMD compares the RX 5700 XT in benchmarks with the RTX 2070.
Navi's coming!
At today's Next Horizon Gaming event at E3 in Los Angeles, AMD will present two major innovations. On the one hand there is more information about the Radeon Navi generation, on the other hand there is probably also a Ryzen 3000 processor with 16 cores. The top graphics card model is the Radeon RX 5700 XT. Yesterday the first technical data including a picture leaked out. Shortly before the presentation, which took place at 3 pm PT, another presentation slide has now made it to the internet.
Navi: RX 5700 XT becomes RTX 2070 opponent
The slide is from the Twitter user Spartan Geek. On the slide you can see the benchmarks of 10 AAA titles on WQHD, each with the highest settings. AMD compares the RX 5700 XT with the Nvidia GeForce RTX 2070, featuring Assassin's Creed Odyssey, Battlefield 5, Call of Duty: Black Ops 4, Far Cry: New Dawn, Metro Exodus, Shadow of the Tomb Raider, Civilization 6, The Division 2, The Witcher 3 and Ghost Recon: Wildlands. The RX 5700 XT performs better in every benchmarks with only two exceptions. Only in Shadow of the Tomb Raider and Civilization 6 the Navi graphics card is inferior by three and one percent respectively of the RTX 2070. However, it clearly beats it at Battlefield 5 (22 percent) and Metro Exodus (15 percent). In the other games, the RX 5700 XT is between two and six percent faster.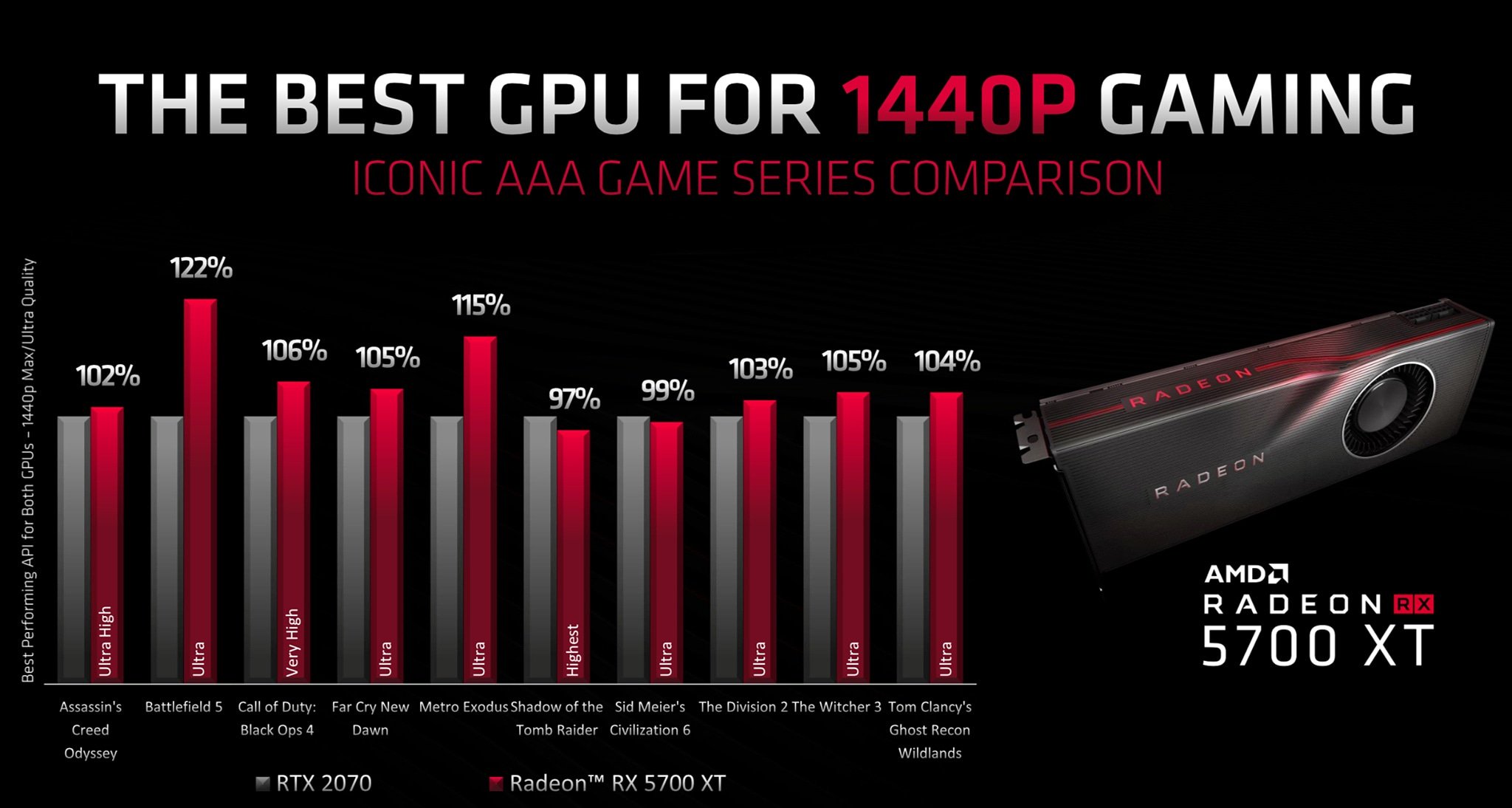 Also interesting is the picture of the card, which can also be seen on the slide. This once again confirms the blower fan design of the Navi reference versions. Apart from the blower fan, the dark grey design, probably made of aluminium, with the streamlines somehow reminds of the Founders Edition of the Turing generation. Two 8-pin connectors can also be seen, which could indicate a rather higher power consumption.