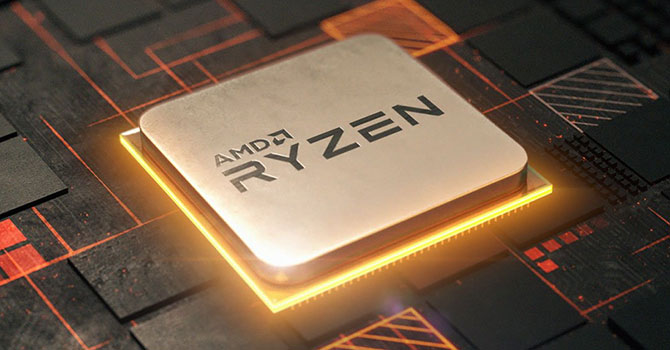 Before tomorrow's presentation at E3, another Ryzen 3000 processor has been leaked. The Ryzen 9 3950X has 16 cores and 4.7 GHz boost clock.
Ryzen 300, now with 16 cores
At the presentation of Ryzen 3000 at Computex 2019, AMD confirmed for the first time that it was betting on more than eight cores. The Ryzen 9 3900X comes with 12 cores and up to 4.6 GHz boost clock. Despite this strong increase, the confused whispering among the journalists present was great, because everyone had expected a 16-core part. AMD seems to have saved up this bomb. Already on the day after the presentation there was the first information that there is still a 16-core processor. Several benchmarks have also been leaked from this. AMD has also planned a presentation at the current E3 2019. The Next Horizon gaming event is supposed to be about the new Radeon Navi series. But now a presentation slide has leaked which confirms that Ryzen 3000 comes with up to 16 cores.
Ryzen 9 3950X with 16 cores, 4.7 GHz clock and 105 watts TDP
Once again, Videocardz is responsible for this leak. The website received a presentation slide for the RX 5700 XT on the one hand and a presentation slide for a new Ryzen 3000 processor on the other hand. The Ryzen 9 3950X is according to the slide "the first gaming CPU with 16 cores". The data sheet is more than impressive. In addition to the 16 cores and 32 threads, the clock rates are also noted. On base the 3950X clocks up to 3.5 GHz, on boost the processor reaches up to 4.7 GHz. The cache is gigantic with 72 megabytes. According to the slide, AMD realizes all of this with a TDP of 105 watts. Also the socket remains the same with AM4.

With the new name AMD enters into a conflict, because a successor of the Threadripper 2950X would probably also be called 3950X. However, this could also mean that the Threadripper series now does without a 16-core CPU, since Ryzen 3000 now also has a 16-core processor with the Ryzen 9 3950X. What is still missing is an information about the launch and a price. We will learn more at AMD's presentation tomorrow.