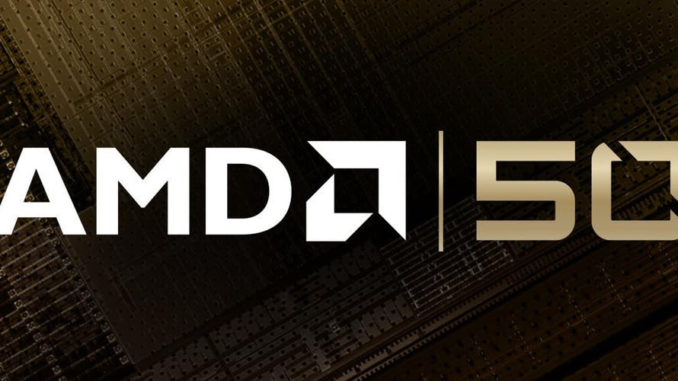 AMD is planning two special products for its 50th anniversary. Both a Ryzen 7 2700X and a RX 590 leaked out as a special edition.
Anniversary: AMD celebrates its 50th birthday
On May 1, 1969, Jerry Sanders III and Ed Turney together with six employees founded a company in the US state of Delaware called "Sanders Association". Sanders and Turney were previously in the sales team of Fairchild Semiconductur, but were both dismissed and subsequently set up their own electronics company to manufacture circuits. However, the two marketing specialists needed a good 1.5 million US dollars to set up the company. Of all people, Intel founder Robert Noyce made his first investment and brought other investors on board, which is why AMD was able to start developing his own circuits as early as 1969. In 1970 the first self-developed product called Am2501 was released.
This marked the beginning of the success story of AMD, Intel's main competitor alongside players like ARM. The company grew rapidly and gradually incorporated companies such as Monolithics Memory, NexGen and Alchemy. AMD specialized in integrated circuits, but was also busy developing processors, especially for the embedded market. Some plants were also built in Malaysia, New York and Dresden, Germany. In 2005, the company launched its first dual-core processor three days after Intel. The Athlon 64 quickly became a cult processor. Since 2006, AMD has also been active in the graphics market with the acquisition of ATI for a good $5.4 billion. The new graphics division also allowed the first APUs, i.e. a combination of processor and graphics unit. In 2008 AMD decided to outsource the production completely and founded a new foundry called Globalfoundries. This served as an independent contract manufacturer for the company and produced the majority of the chips until 2018.
Today, after several turbulent years, AMD is on the rise again with the Zen processors in the form of Ryzen, Threadripper and Epyc and graphics cards of the Polaris, Vega and soon also Navi generation. In the console market, the company is also a major player, supplying APUs for both Sony's PlayStation models and Microsoft's Xbox consoles. AMD celebrates its 50th anniversary on 1 May 2019. There seem to also be anniversary products for this.
Anniversary Edition of Ryzen 7 2700X and RX 590 leaked out
It has long been common practice for tech companies to celebrate their anniversaries with new products. For example, Intel launched its own Core i7-8086K for the 40th birthday of the Intel 8086 processor. AMD now seems to be planning something similar for its 50th anniversary. Thus a Ryzen 7 2700X 50th Anniversary Edition appeared at the American dealer ShopBLT, as the Twitter user Dayman58 noticed. The entry went offline again shortly afterwards, but there is still a screenshot of it.
ShopBLT lists the processor for 340.95 US dollars, which is not significantly above the Ryzen 7 2700X. The model number YD270XBGAFA50 also indicates that the 50th Anniversary Edition is not a selected model of the Ryzen 7 2700X. Accordingly, the processor probably only comes with a specially engraved heatspreader and other packaging. The technical data should be identical. The listing at ShopBLT doesn't go into this in detail, only the note that the Wraith Prism cooler is included can be found.
Matching the Ryzen 7 2700X, there seems to be a 50th Anniversary Edition of the Radeon RX 590 from Sapphire that comes in the design of the Nitro+ series, but has a golden look. Here, too, a dealer is responsible for the leak. The Portuguese retailer PCDIGA put the entry online too early, but took it offline again very quickly. Also here it is probably only an optically changed edition, not a specially binned model. It remains to be seen whether other AMD board partners will also release anniversary graphics cards. With a price of 299.90 Euros, however, it is a good deal more expensive.