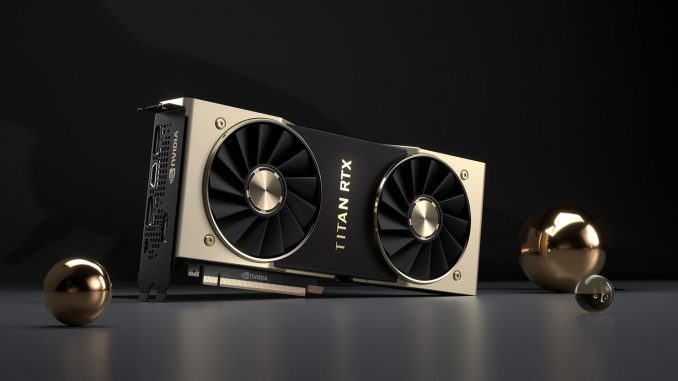 Today Nvidia released the already teased Titan RTX. The graphics card comes with 24 GB GDDR6, a full TU102 chip and the nickname T-Rex.
T-Rex is the name of the fastest Turing horse
Already at the weekend first posts with a Titan RTX appeared at well-known tech influencers social media channels. Now Nvidia has officially released the graphics card. The Titan RTX listens to the nickname "T-Rex" and is now the fastest horse in the Turing stable. It comes with the full TU102 chip and therefore has more shaders and cores than the RTX 2080 Ti. However, the Titan RTX is primarily intended for developers, scientists and content creators who cannot rely on a technically identical Quadro RTX 6000. That's why the addition "GeForce" is also missing from this graphics card, as it has been since the Titan X. The technical data of the GPU also show the focus on professionals.
Full TU102 and 24 GB GDDR6 memory
Technically, the Titan RTX is identical in construction to the Quadro RTX 6000. It comes with the full TU102 version with 4,608 CUDA cores, 576 tensor cores and 72 RT cores. The memory configuration has also remained the same with 24 gigabytes of GDDR6 memory with a 384-bit interface. As a result, the memory bandwidth increases to a full 672 GB/s. In comparison to the RTX 2080 Ti, the Titan RTX is also ahead in terms of clock speed. This is calculated from the stated deep learning performance at 1,750 MHz and thus on a par with the Quadro RTX 6000.
The design of the Titan RTX is similar to the Founders Edition of the whole Turing series. However, the otherwise silver elements are kept in gold for differentiation purposes. On the side, instead of the illuminated "GeForce RTX" lettering, there is a simple "Titan" lettering. Compared to the Titan V with Volta architecture, the price has even dropped a bit. Nvidia lists the Titan RTX on its own page for $2,499 US. It is not yet known when the graphics card will be available.