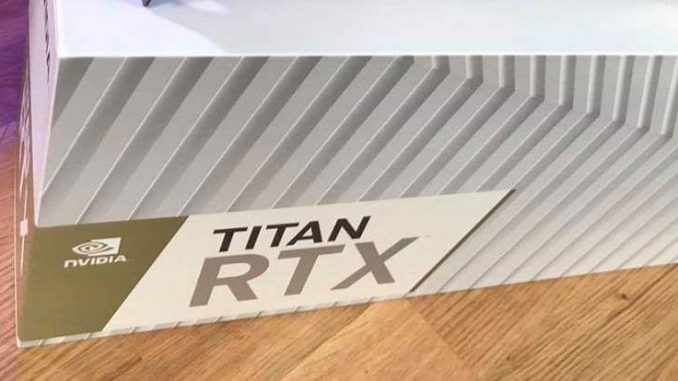 Nvidia teasers the absolutely fastest Turing graphics card. The Titan RTX has appeared in several videos and social media posts from tech influencers.
The Titan – the absolute consumer flagship
For many years, the Titan series from Nvidia has been the absolute consumer flagship of every GPU architecture. However, the graphics card is now mainly aimed at pro users, as it shares many features with the more expensive Quadro and Tesla graphics cards. Since the Titan X, Nvidia has consciously removed the "GeForce" label as a gaming graphics card. The Titan V was then the first consumer graphics card that was itself equipped with the Volta architecture, which was only available as a Tesla graphics card. It also brought a high price into the Titan series. The current Turing generation now also has a Titan flagship.
Nvidia teases Titan RTX
The graphics card has appeared today in several YouTube videos and posts on Twitter, Facebook and Instagram. It seems to be a coordinated approach because the graphics card has not appeared on random channels. Among others, LinusTechTips, JayzTwoCents and Gavin Free have posted content in which the Titan RTX suddenly appears. There are no concrete details about this yet, but the graphics card design should be similar to the Founders Edition and is again in the familiar gold look of the Titan V. Instead of "GEFORCE RTX" there is a "TITAN" logo on the side.
Probably the graphics card uses the full TU102 expansion, which the Quadro RTX 8000 and Quadro RTX 6000 also use. The RTX 2080 Ti also uses the same chip, but gets a somewhat cut down version with a trimmed interface, fewer shaders and a little less memory. Nvidia could therefore rely on the Titan RTX with 12 gigabytes of GDDR6 memory, a 384-bit interface and 4,608 shaders. The even larger memory expansion will probably be reserved for the Quadro GPUs.
Launch date unknown, high price
The launch date of the Titan RTX and also the exact technical details are still unknown, so it's pure speculation at the moment. Possibly Nvidia will officially launch the card this month. In view of the high prices for the RTX 2080 Ti and the price of its predecessor Titan V, the price is likely to exceed 2,500 bucks again.