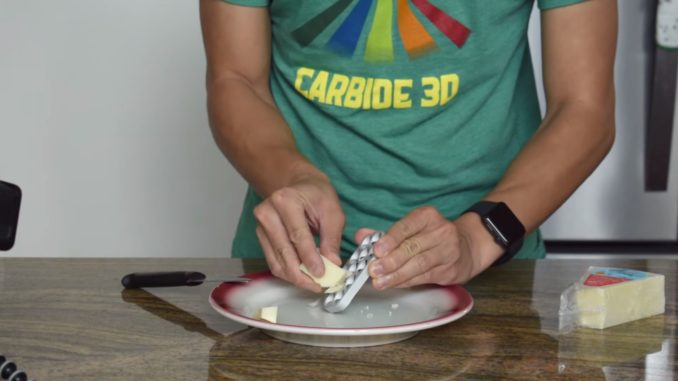 Apple's new Mac Pro reminds many of a cheese grater. A YouTuber has now reconstructed the front and confirmed it: It's hard to grate cheese with it.
Mac Pro: finally a tower again
Apple introduced the new Mac Pro a few weeks ago. After six years of waiting, even the company's most professional Mac device gets a massive update again. In addition to processors with up to 28 Intel cores, up to four AMD Radeon Pro Vega II GPUs on specially developed modules and up to 1.5 terabytes of RAM, the form is particularly striking. While Apple used a shape that reminded of a trash can in the 2013 Mac Pro, the 2019 model finally has the shape of a classic tower again. This also allows the exchange of components for the customer – a rarity at Apple in the meantime. Only the SSDs can obviously not be upgraded. The shape also gives rise to a new cooling concept, which the company has copied from servers. Three powerful fans are located in the front, which cool passive cooling elements on the processor and graphics cards.
The Mac Pro would perform very badly as a cheese grater.
For the fans there are of course openings in the case, which gave the new Mac Pro its nickname. The design is very similar to a cheese grater due to the double perforated front and the carrying handle above.
YouTuber Winston Moy has now also examined this feature more closely in a video. The Mac Pro is not yet available, which is why it simply redesigned the front. In the video, Moy also explains the effort Apple has put into thinking through the front. The YouTuber then produced a small version of it with a CNC milling machine from a single piece of aluminium. With this Mini-Mac Pro, Moy then tried to grate a piece of hard cheese. However, the success was rather limited – the cut-outs are simply too big for a cheese grater, the edges not sharp enough. So the Mac Pro is not really suitable as a cheese grater. But the computer would also be too expensive for a kitchen utensil. It will be launched in autumn and even the basic version costs $6,000 – a fully equipped model could even cost up to $50,000.