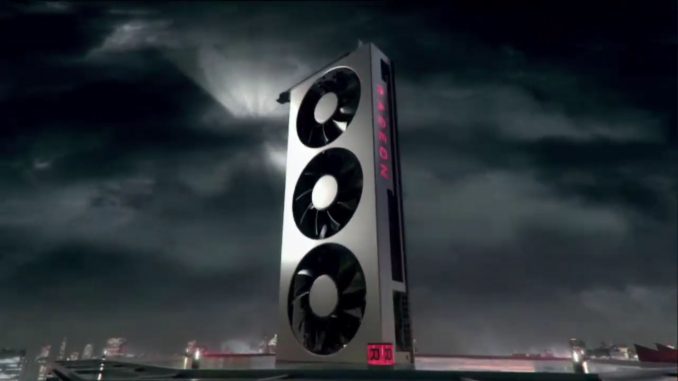 AMD presented a graphics card called Radeon Vega VII at CES. It comes with 16 GB HBM2 and 50 percent more gaming performance than a RX Vega 64.
Radeon Vega II becomes Radeon Vega VII
AMD presented a new graphics card at the CES today. The previously leaked name Vega 2 (or Vega II) did not come true. It is probably a misinterpretation. Instead of Vega II, the new graphics card is called Radeon Vega VII or Radeon Vega 7. AMD uses the Vega-V as the Roman Five. With the two additional stripes the Vega VII is the result. The Seven again points to the 7nm process on which the Radeon Vega VII is built. AMD wants to use the graphics card to serve two target groups: gamers and content creators.
Up to 62 percent more performance for content creators and gamers
The new Radeon Vega VII is not really new. AMD has ported the old Vega 10 chip from 14nm to 7nm. This new Vega 20 GPU works in the Vega VII. The GPU is already used in the Radeon Instinct MI50 and Radeon Instinct MI60, which are however intended for server use. The consumer segment has not yet processed AMD with Vega 20, but this is changing with Vega VII.
For this AMD has once again turned the adjusting screw to improve the graphics card significantly. By porting to 7nm there is 25 percent more performance with the same power consumption. 60 compute units run up to 1.8 GHz for this. AMD combines this with 16 gigabytes of HBM2 memory, which should be particularly interesting for content creators. The memory is connected with 1TB/s. Through these optimizations, AMD achieves 27 percent more performance in Blender and DaVinci Resolve. In Adobe Premiere it is 29 percent, in OpenCL applications even up to 62 percent more performance. For reference, AMD used a RX Vega 64.
Performance has also increased in gaming. Despite a missing RX in the name of the Radeon Vega VII, AMD has also designed the graphics card for gamers, but is careful with benchmarks. However, Battlefield 5 is supposed to run 35 percent faster, while Fortnite achieves 25 percent more performance. The biggest increase is possible in Vulkan games. Strange Brigade is supposed to achieve 42 percent more performance. Also in comparison to the Nvidia GeForce RTX 2080, the Radeon Vega VII doesn't have to hide. The performance in Battlefield 5 and Far Cry 5 should be the same, while performance on a Vulkan basis should be significantly higher. In Strange Brigade on UHD and maximum settings, the Vega VII is supposed to reach 87 FPS, while the RTX 2080 only achieves 73 FPS.
$699 US price, available February 7th
The Radeon Vega VII shown here also differs from the reference design of the otherwise well-known radial fans. Three axial fans are installed. AMD has also provided information on availability. The reference version will be available directly from AMD and Alienware in an Area51 system from February 7th. However, the price is slightly higher than expected. Thus the Radeon Vega VII costs 699 US dollars and is more based on the price of the RTX 2080.