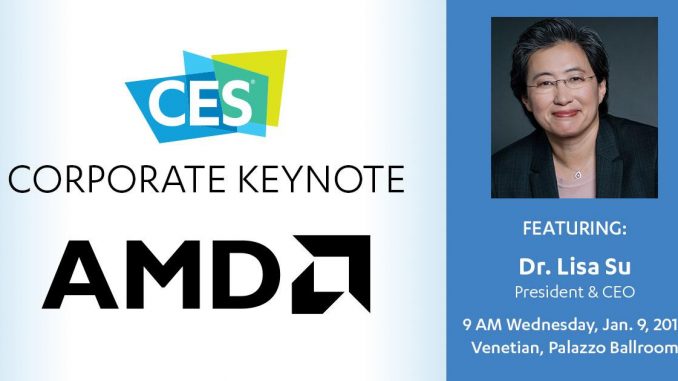 AMD announced yesterday that the company will present its first 7nm products at CES 2019. These could already be Ryzen 3000 and Navi.
The first 7nm products from AMD are coming
AMD is currently experiencing an unprecedented revival. Since the introduction of the first Zen processors with the Ryzen, Threadripper and Epyc product families, the company is back in the processor market. The own products have not only become competitive again, also the prices and the availability are clearly better. The biggest rival Intel is currently struggling with a massive production bottleneck in 14nm production. AMD, on the other hand, can manufacture and supply both the first Ryzen generation in 14nm and the second Ryzen generation in 12nm without any problems. Now the next production step is already just around the corner. With the adaptation to TSMC's 7nm process, both the Zen architecture and Zen 2 and the graphics architectures Vega and Navi come up. By shrinking to 7nm, more efficient and more powerful products are possible. How powerful the products are might already be demonstrated at CES 2019.
CES 2019: 7nm in processors and graphics cards
Yesterday AMD announced a keynote at the CES 2019 in Las Vegas. CEO Lisa Su will talk about the company's first 7nm products. As the Consumer Electronics Show is more focused on consumers, AMD may already present the third generation of Ryzen processors with Zen 2 architecture and the new Navi generation. Ryzen 3000 would be the first consumer processor generation with 7nm structure width for desktop computers at all. Navi would also be a quantum jump, but is already the second 7nm graphics card for AMD. Vega with a 7nm structure width is to be released towards the end of 2018. However, the GPU called Vega 20 will only be available for the server market as Radeon Instinct GPUs. It is said to be a good 25 percent more powerful than Nvidia Turing. Navi, on the other hand, is already the successor of Vega, but AMD allegedly only brings out a mainstream GPU with the performance of a RX Vega 64 or GTX 1080. However, other sources also report that later in the year 2019 a high-end version of Navi may also be released.
It is possible that AMD will release the new generation of server processors called Rome at the same time. The Epyc processors are supposed to come with the Zen 2 architecture and 7nm structure width. According to the latest information, the Epyc processors will be the first available 7nm processors from AMD. It would therefore be logical to introduce Ryzen 3000 at CES 2019, but not release it until later, possibly in April, as it was already the case with Ryzen 2000. The Epyc processors could come onto the market without a big launch event in between. Lisa Su's keynote will take place on January 9th at 09:00 local time.