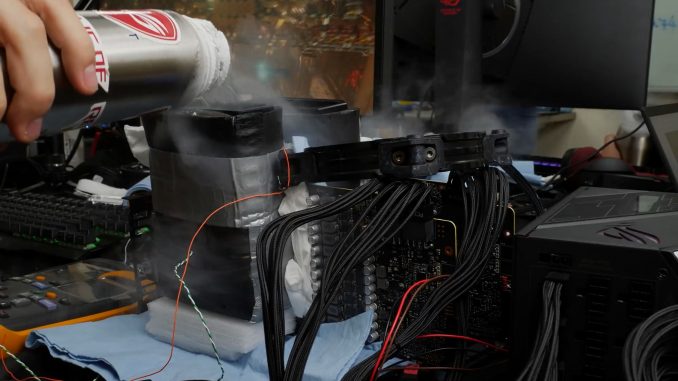 The YouTubers JayzTwoCents and GamersNexus are currently battling an overclocking competition with two RTX 2080 Ti. der8auer has now beaten both of them.
YouTube Battle: JayzTwoCents and GamersNexus compete in overclocking
The two Tech YouTubers JayzTwoCents and GamersNexus are currently fighting a battle overclocking. The two PC enthusiasts each clocked two Nvidia RTX 2080 Ti in SLI higher and higher to reach first place in the Time Spy Extreme ranking in 3DMark. The whole thing led from completely normal air coolers over custom water coolers up to water cooling with industrial chillers. Point by point, the two YouTubers have again and again taken first place in the ranking. That's when Roman Hartung droped in.
der8auer takes the lead
The German extreme overclocker Roman Hartung, better known as der8auer, has obviously also noticed the competition. As an extreme overclocker and with good connections to manufacturers like Asus, he naturally didn't want to miss out on joining in. He used two pre-selected Asus ROG Strix RTX 2080 Ti OC, which already reached 2.160 or 2.190 MHz boost clock out of the box without further modifications. Like in his RTX 2080 video, der8auer worked with a power mod to remove the current limits of the RTX 2080 Ti. The processor was an Intel Core i9-7980XE on an Asus Rampage VI Apex. Two of the new Asus ROG Thor 1200W power supplies provided the power for his setup. Needless to say, liquid nitrogen coolers were used for cooling. With many paper towels and Vaseline, the extreme overclocker protected the hardware from condensation.
Then it was time for overclocking. With 2,300 to 2,340 MHz clock per graphics card, 5.3 GHz processor clock and 16,200 MHz RAM clock, Roman Hartung succeeded in achieving the Time Spy Extreme best value. It now is at 16,248 points, a good 1,000 points above the second-placed Steve from GamersNexus, who achieved 15,242 points. JayzTwoCents is in third place with 15.115 points. der8auer tried his best to get even more out of the setup. However, more clock could not be squeezed out, because the cards could not reach more clock even with more voltage. The extreme overclocker is nevertheless happy about the result and the fact that he was able to beat the two YouTubers. He thinks that now probably only Vince Lucido alias Kingpin could improve the score.
p