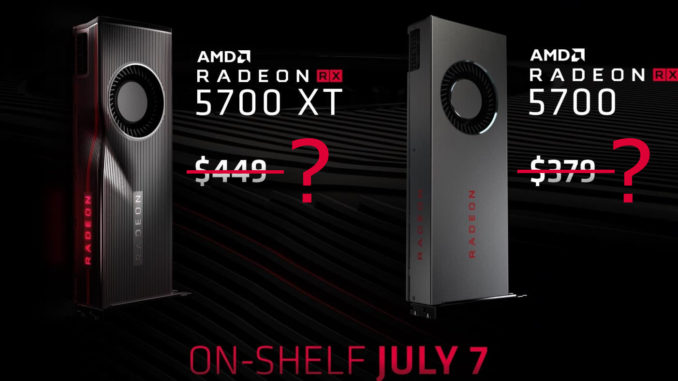 AMD is already lowering the prices for the Radeon RX 5700 XT and RX 5700 Navi GPUs before the launch, probably because of the Nvidia Super GPUs.
Harsh competition between Nvidia Super and Radeon Navi
With the Radeon Navi graphics cards, AMD presented the first 7nm graphics card series on a large scale at the E3 2019. The target group was clear: the upper middle class should be served. With higher performance than the RTX 2070 and RTX 2060, the RX 5700 XT and RX 5700 should score points. Added to this was a low, competitive price.
To pre-empt AMD, Nvidia finally released the Nvidia Super graphics cards RTX 2070 Super and RTX 2060 Super on July 2. These are versions of the normal RTX 2070 and RTX 2060 with more shader units each, in the case of the RTX 2060 Super also with more memory. In addition there are higher clock rates. The prices, on the other hand, remain the same. The RTX 2060 Super costs $399 at the start, the RTX 2070 Super $499 – each as Founders Edition. The retail prices for some custom models will probably be even lower. Thus, Nvidia positioned the graphics cards exactly at the point where AMD wanted to take its place. First leaked benchmarks also show that the Radeon Navi GPUs could be inferior to the Nvidia Super GPUs.
AMD makes RX 5700 XT and RX 5700 cheaper ahead of launch
Surprisingly, the reaction to the Nvidia super graphics cards has been leaked too. As Videocardz has learned independently from several sources, AMD is planning a price reduction for the RX 5700 XT and RX 5700. According to Videocardz, AMD officially announces the final prices tomorrow. According to the sources, prices are falling a good deal. Thus, the RX 5700 XT should now be available for $399, the RX 5700 for $349. The 50th Anniversary Edition of AMD will also be $50 cheaper and thus cost $449. That would be as much as the normal RX 5700 XT would have cost.
It remains to be seen how AMD will generally structure the price reduction. It is possible that these are only the prices of the reference cards. The prices of the board partners could be higher. By Sunday at the latest, we'll know more.