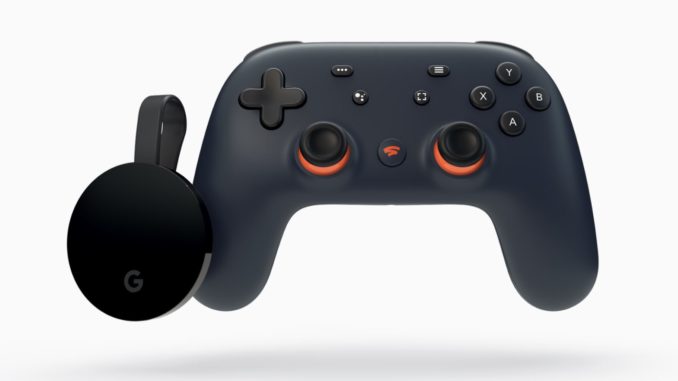 Google today released details about the game streaming service Google Stadia. Stadia starts in November with Stadia Pro for $9.99 per month.
Stadia brings games to any device with Chrome
Google has published further details about Google Stadia in a livestream of almost 30 minutes today, after two hours before all information already leaked to the net. Stadia is a streaming gaming service designed to allow high resolution games to be played on almost any device with a display. These games run in Google data centers. Only the image data is transferred to the end device. Google wants to support as many devices as possible. Probably the most important device is the Chromecast Ultra, which makes Stadia run on any TV. But all other devices running a Google Chrome browser are also compatible. Pixel 3 even has its own app for Stadia. The only other requirement is a Stadia controller.
Stadia Pro for $9.99 offers 4K, 60 FPS, HDR and 5.1 Sound
In addition to the required hardware, however, players also need a membership in Google Stadia. The first of these memberships is called Stadia Pro and costs $9.99. With Stadia Pro, buyers receive the most powerful version of the streaming service. Games run at 4K on 60 FPS, HDR and 5.1 surround sound. The required bandwidth for this is at least 35 MBit/s. Full HD at 60 FPS and HDR support requires at least 20 MBit/s, the recommended minimum is 10 MBit/s. Then you only get HD resolution, 60 FPS and stereo sound. The Pro subscription also offers other exclusive advantages. So there are games included. Destiny 2: The Collection is the beginning, more games will follow. There will also be special offers for subscribers to Stadia Pro.
In addition to the Pro version, there is also a free version with Stadia Base starting 2020. This limits the resolution to Full HD at 60 FPS, the sound is only output with stereo. In addition, all games must be purchased. These then belong to the player without restrictions. However, there will be no free games or exclusive offers. Of course, the base version also requires a Stadia controller.
Founder's Edition with Chromecast Ultra, Controller and Stadia Pro including Buddy Pass for 129 Euro
For the launch of Google Stadia, the company is also launching a package called Founder's Edition. This can now be pre-ordered via the Google Store. Included are a Chromecast Ultra, a limited edition Stadia controller in Night Blue and three free months of Stadia Pro. The subscription also includes a Buddy Pass for a friend, who can also use Stadia Pro for three months (a controller required, of course). Google also underlines in the presentation that the Founder's Edition customers will be the first to be able to choose their Stadia names. So if you are looking for a special name, you should probably buy a Founder's Edition. This is available in Belgium, Finland, Canada, Denmark, France, Germany, Ireland, Italy, the Netherlands, Norway, Spain, Sweden, the United Kingdom and of course in the United States immediately. In the USA the Founder's Edition costs $129.
If you don't want a Founder's Edition, you can also buy a Stadia controller alone. They are available in the colors Clearly White, Just Black and Wasabi and cost 69 Euro each. Currently the controllers are only available in combination with the Founder's Edition. The controllers alone will probably only be available in November for the launch of Google Stadia.
Numerous games will also be available for Google Stadia right from the start. That includes:
DRAGON BALL XENOVERSE 2
DOOM Eternal
Wolfenstein: Youngblood
Destiny 2
Power Rangers: Battle For The Grid
Baldur's Gate 3
Metro Exodus
Thumper
GRID
SAMURAI SHODOWN
Football Manager 2020
Get Packed
The Elder Scrolls Online
The Crew 2
The Division 2
Assassin's Creed Odyssey
Ghost Recon Breakpoint
Trials Rising
NBA 2K
Borderlands 3
Farming Simulator 19
Mortal Kombat 11
Rage 2
FINAL FANTASY XV
Gylt
Tomb Raider Trilogy
Darksiders Genesis
Just Dance 2020