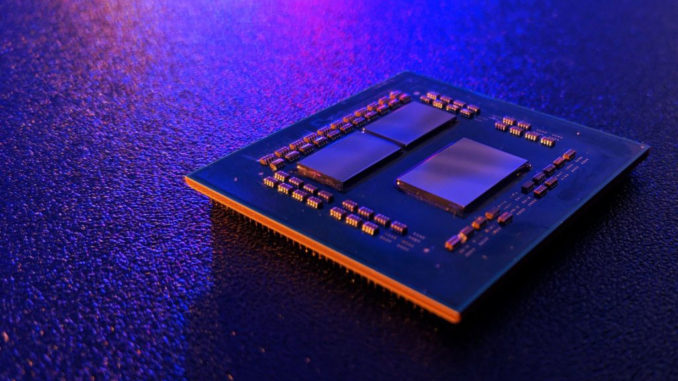 At Geekbench, a benchmark has emerged that is said to belong to the 16-core AMD Ryzen 9 3950X. In this it is faster than the Intel Core i9-9980XE.
Ryzen 3000 can store up to 16 cores
Since yesterday the cat is finally out of the bag. At the Next Horizon gaming event at E3, AMD presented the Ryzen 9 3950X as well as the new Navi graphics cards. The processor is currently the only processor in the Ryzen 3000 series with 16 cores. At Computex 2019, AMD surprised by planning only up to 12 cores on AM4. The company has saved the full extension with 16 cores only for the E3 as a further treat.
The Ryzen 9 3950X is a true monster. The processor has three chips. A central management die in 14nm regulates memory and I/O, two connected 7nm chiplets with eight cores each and the cache are responsible for the calculations. The processor clocks at 3.5 GHz in base and up to 4.7 GHz in boost. How many cores clock to 4.7 GHz at the same time is not known yet. A total of 72 megabytes are used as cache. All this squeezes AMD into a TDP of 105 watts and onto the AM4 platform. Initial tests must show how high the actual consumption under load is. Who wants to call the Ryzen 9 3950X their own, can buy it for $749 starting in September. Unlike the Ryzen 3000 processors, which were launched in July, AMD has not yet given a performance demonstration of the 16-core. However, another character benchmark is now showing a remarkable performance.
Ryzen 9 3950X is faster than Intel Core i9-9980XE
The Leaker APISAK has posted a benchmark result on Twitter that could fit the Ryzen 9 3950X. The entry is from the Geekbench database and shows an AMD processor with 16 cores and 32 threads. The cache is at 72 megabytes, the clock at 3.3 GHz base clock and 4.3 GHz boost clock. Above all, the clock rates indicate that this is still an engineering sample. The AMD platform called Myrtle serves as the basis, but the chipset is not X570, but X470. The motherboard contains 32 gigabytes of DDR4 memory with 2.063 MHz clock speed (equivalent to DDR4-4133).
The scores achieved are really impressive. The presumed Ryzen 9 3950X reaches 5,868 points in the Singlecore test and 61,072 points in the Multicore test. Both values are above the Intel Core i9-9980XE, the multi-core score even a good 14,300 points or 31.6 percent. The distance in the Singlecore test is shorter. The difference here is 473 points or 8.8 percent. How meaningful the Geekbench benchmark is, however, is controversial. Not later than September we will know how the Ryzen 9 3950X performs in games or programs.