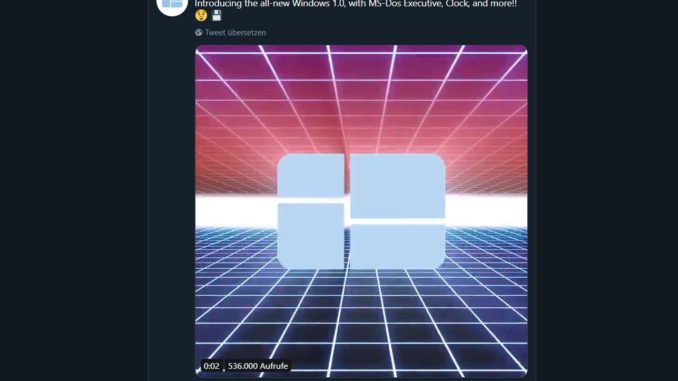 Microsoft is currently causing confusion with Windows 1.0. This was actually the first graphical user interface for MS-DOS. Not it might hint to Windows One.
Does Windows 1.0 return?
Microsoft is currently causing some confusion on the company's social media accounts. There, the software group advertises Windows 1.0 – a dinosaur from the beginnings of the Windows era. This was Microsoft's first graphical user interface, launched in 1985. It was intended to make work significantly easier for users of the DOS operating system.
On Instagram and Twitter, Microsoft shared a video showing the logos of all Windows versions backwards. The headline is "Introducing the all-new Windows 1.0, with MS-Dos Executive, Clock, and more!".
The profile picture of the Windows Twitter account has also changed to the Windows 1.0 logo. Yesterday, the company also put a video online in which an old, animated version of the Microsoft logo can be seen. The headline this time is "Be a part of the computing revolution and get your copy of Windows 1.0 today!"
PR gag or hint to Windows One?
Of course there are different explanations for the posts now. On the one hand, it could simply be a PR gag to generate attention (which Microsoft has succeeded in doing with this). A further explanation would be the approaching release of the source code of Windows 1.0. Microsoft has already done this with other operating systems such as MS-DOS 2.0.
However, the most plausible explanation is that Microsoft could soon announce a new operating system. This is called either Windows Lite or Windows One, which could also explain the connection with Windows 1.0. This is supposed to be a very slim version of Windows 10. This version gets the kernel of Windows 10, but does without many other functions. The user interface should also be simpler. Microsoft has been working on Windows Lite/Windows One for years, so an early release would not be so unlikely.