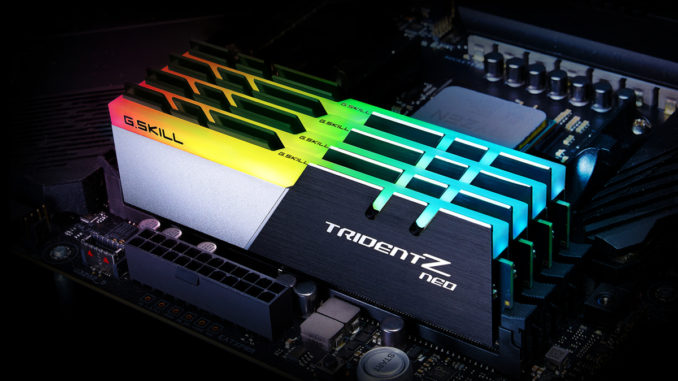 G.Skill has introduced the Trident Z Neo modules. They should be especially well compatible with AMD Ryzen 3000 CPUs and reach DDR4-3600 by CL14.
G.Skill Trident Z Neo: New Performance RAM for Ryzen 3000
The memory specialist G.Skill has introduced a new product line. The G.Skill Trident Z Neo modules combine the well-known design of the Trident Z series with new design elements and high performance. In particular, the company promotes the new modules with excellent compatibility with the new Ryzen 3000 processors. Like all Ryzen CPUs, these benefit in particular from high-clocked RAM. AMD itself has once again raised the official RAM support from DDR4-2933 to DDR4-3200 with the new generation. This is the highest standard certified by JEDEC – some X570 mainboards support up to DDR4-4800.
Accordingly, G.Skill has launched a whole range of different kits from the Trident Z Neo series. The modules will also be available as DDR4-3000 and DDR4-3200 kits with CL14 or CL16. However, the DDR4-3600 modules are the highlight. In the best case, they achieve a CAS latency of 14. The timings are 14-15-15-35, the voltage 1.4 volts. The DDR4-3600 kit is also available with 18-18-18-38 timing and 1.2 volts. Depending on the clock rate and latency, there are kits consisting of two or four modules with a total of up to 64 gigabytes of memory.
(Picture: G.Skill)

(Picture: G.Skill)

(Picture: G.Skill)

(Picture: G.Skill)
Design with RGB remains
In terms of design, the Trident Z Neo modules have changed little. The side is still in two colours. The typical aluminium fins of the Trident Z series are in matt black, the second element in powder-coated silver. On the side each module is decorated with the Trident Z Neo lettering. But the most important element for some will be the RGB Header. This is the same as the old Trident Z modules and has eight zones. In addition to preset effects via the Trident Z Lightning Control software, the modules also support Asus Aura Sync, Gigabyte RGB Fusion, MSI Mystic Light and ASRock Polychrome.
It is not yet known exactly when the modules will be available. But according to G.Skill it will be worldwide in July. The company has also not yet mentioned prices.