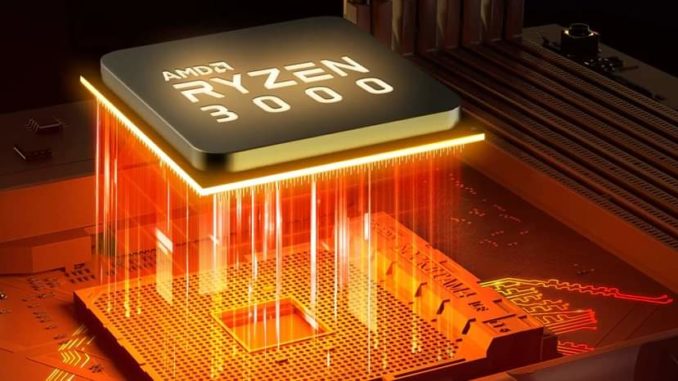 With Ryzen AMD started to solder the heatspreader to the CPUs. Also Ryzen 3000 comes with soldered heatspreader as AMD has confirmed.
New trend: heatspreaders soldered again
Since the year 2000 an integrated heatspreader (IHS) can be found on practically all socket processors. This protects the processor die from damage on the one hand and ensures heat distribution on the other. Especially for the latter it is also crucial how the die is connected to the heatspreader. Intel has been criticized for this since the Ivy Bridge generation, because the processors were no longer soldered to the heatspreader as usual, but a heat conducting paste provided the connection. This heat conducting paste caused significantly higher temperatures, which is why delidding and resealing of the processors with liquid metal quickly became popular. Only with the ninth generation called Coffee Lake Refresh Intel fixed this flaw – at least the K-models are soldered.
It's different with AMD. The Ryzen series was soldered from the beginning. The only exceptions were the two APUs Ryzen 5 2400G and Ryzen 3 2200G. These were provided with heat conducting paste. For the third generation, the only confirmation so far was that the two APUs Ryzen 3 3200G and Ryzen 5 3400G are soldered. But all other Ryzen models also come with a solder, as AMD now confirms.
AMD solders Ryzen 3000
Even with the Ryzen 3000 processors recently presented at Computex 2019, AMD does not stop soldering despite the changed structure of the chips. While previous generations were equipped with a die on the substrate, Ryzen 3000 is different. Here a management die and up to two chipplets come together on one board. Soldering could therefore be more difficult and possibly no longer profitable. Fortunately, AMD is also soldering the third Ryzen generation again, as Technical Marketing Manager Robert Hallock confirms on Twitter.
The fact that AMD also solders the Ryzen 3000 processors with the heatspreader is a good sign for heat dissipation. The company already surprised with the low TDP at the presentation at Computex. So the Ryzen 7 3700X has a TDP of only 65 watts, while the Ryzen 7 3800X and Ryzen 9 3900X are allowed to have up to 105 watts – with up to 12 cores.