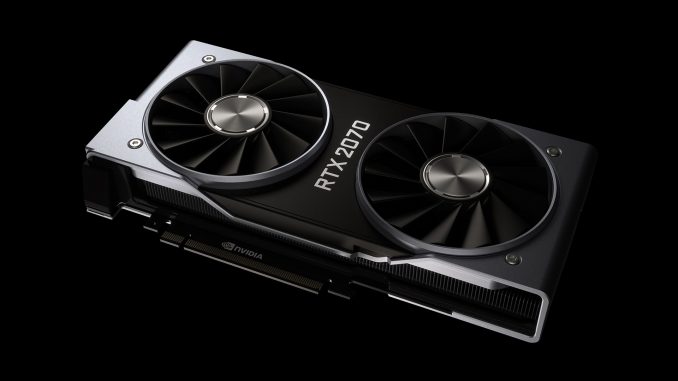 According to a leak, the GeForce RTX 2070 Ti should have 2,560 CUDA cores and 1,770 MHz clock rate. Whether it has anything to do with Nvidia Super is unknown.
RTX 2070 Ti or Nvidia Super?
After the announcement of Radeon Navi at Computex 2019, Nvidia seems to be preparing for a counterattack. Already before the Computex a video with the title "Something super is coming…" appeared, which let many hope for an announcement at the Computex. But that didn't happen. After that the speculation started what Nvidia Super could actually be about. According to information from Videocardz, these will actually be new graphics cards, but they will not be launched until Gamescom. Other information is available from TweakTown. Accordingly, three new models of the RTX 2060, RTX 2070 and RTX 2080 are planned. These are both faster and cheaper than their predecessors, the launch should already take place at E3 2019.
The fact is that Nvidia will probably need an opponent for the Radeon Navi graphics cards. One of these graphics cards is said to be much faster and probably cheaper than the RTX 2070, which also fuels rumors about a RTX 2070 Ti again. Such a graphics card would also be the logical step that Nvidia has already taken. The GTX 1070 Ti was the opponent of the RX Vega 56 with a performance just below that of the GTX 1080 and a significantly lower price. Now the first information about a RTX 2070 Ti has emerged.
RTX 2070 Ti with 2,560 cores and 1,770 MHz clock rate
The Twitter user kimi7kop allegedly discovered the first information about the RTX 2070 Ti. The graphics card should come with 2,560 CUDA cores. This corresponds to 40 compute units, 320 tensor cores and 40 RT cores. The boost clock should be higher than that of the RTX 2070, which has a boost clock of 1.710 MHz (Founders Edition), whereas the RTX 2070 Ti should have a boost clock of 1.770 MHz. However, the memory has remained the same. According to kimi7kop, memory is still installed at 14 Gbps speed, which contradicts the leaks to Nvidia Super.
As always, it is relatively difficult to check how authentic this leak is. In fact, Nvidia could use the same trick as with the GTX 1070 Ti and simply cut an RTX 2080 a little and create an RTX 2070 Ti. The graphics card would then come with the TU104 chip instead of the TU106 chip. 8 gigabytes of memory will probably remain. Whether the graphics card is now possibly called RTX 2070 Super or RTX 2070 Ti remains open. Further information is expected for E3 2019, which will take place from June 11th to June 14th in Los Angeles.