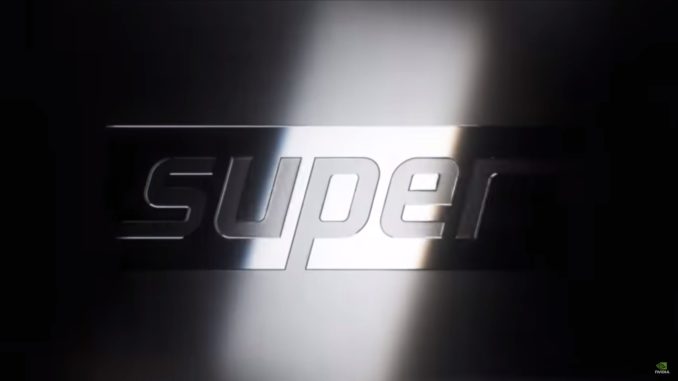 Soon the Nvidia Super-GPUs will be introduced. Now the prices have popped up, which are supposed to be significantly higher than initially assumed.
Nvidia Super: faster GPUs than Navi opponents
The Nvidia Super-GPUs are already on the road for several weeks in the gossip factory. Nvidia itself had got the ball rolling. Shortly before Computex 2019, a video titled "Something super is coming…" was released, with a new emblem that directly fuelled rumours about new graphics cards. At the Computex and also at the E3 2019 there wasn't anything to see. There wasn't even a hint. After the Computex, however, the first additional information appeared. Three models are planned: the RTX 2060 Super, the RTX 2070 Super and the RTX 2080 Super. The RTX 2080 Super also comes with faster memory (16 Gbps instead of 14 Gbps), the RTX 2060 Super now has 8 Gigabyte GDDR6 memory instead of 6 Gigabyte. This information is now considered to be fairly reliable, and Igor Wallossek also provided accurate technical data.
Part of the speculation are the prices and the release date. The information that Nvidia could introduce the Super GPUs around June 21 comes from wccftech, as they will be launched as opponents to AMD Navi in July. Initial information indicated that the prices were similar to the MSRP prices of the current RTX 2000 GPUs, while they were priced down.
Nvidia Super GPUs will be more expensive than expected
wccftech has received information from the environment of a board partner. According to the tech side, the MSRP prices are significantly higher than previously thought. Thus the prices of the current Turing GPUs remain the same, the Super GPUs cost more. For example, the RTX 2080 Super should receive an MSRP price of $799. The RTX 2070 Super costs $599, the RTX 2060 Super $429. The prices are just as high as at the launch of the Turing series last year. Here you have to differ that there were two versions of the RTX 2080 Ti, RTX 2080 and RTX 2070. The versions with A-Chip are better selected and can be factory overclocked by the manufacturers, Non-A-Chips may only be delivered in standard clock. However, Nvidia has recently removed this separation, which is why all chips are now A chips. As a result, MSRP prices have also fallen significantly. The RTX 2070 has an MSRP of $499, while the RTX 2080 has an MSRP of $699. Also the prices of the dealers are meanwhile equivalent.
The Nvidia Super-GPUs could therefore replace the A-Chips with this price scheme. While the "normal" Turing GPUs have the same price, the Super GPUs add $100 each. The only exception is the RTX 2060 Super, which adds $70. If the presentation date is correct, we will maybe find out more in the next few days.