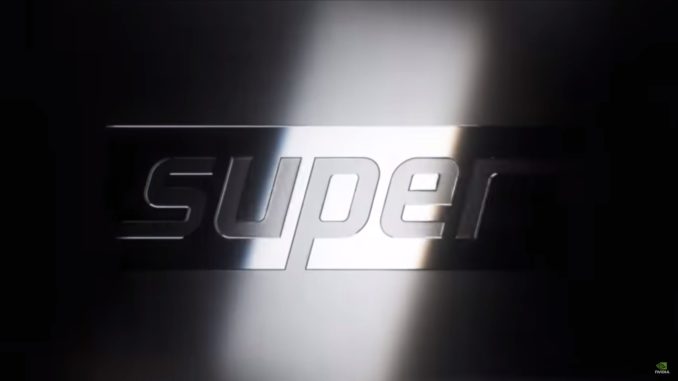 The Nvidia Super GPUs will start soon. Now the first picture is leaked. The RTX 2070 Super Founders Edition comes with a green emblem and mirror surface.
Worst case scenario for AMD?
With the Super-GPUs, Nvidia soon launches a new series of graphics cards. These expand the current Turing series with the RTX 2060 Super, RTX 2070 Super and RTX 2080 Super models. Each Super model has more cores than its "normal" counterpart, the RTX 2080 Super also has faster memory. The RTX 2060 Super now has 8 gigabytes of GDDR6 instead of 6 gigabytes. The graphics cards are priced where the A-chip models of the regular Turing GPUs used to be. The RTX 2060 Super costs $429, the RTX 2070 Super $599 and the RTX 2080 Super $799. The launch date is also almost fixed. The first reviews of the Founders Edition will be released on the 2nd of July, followed by reviews of custom versions a week later. However, the market launch will probably take place later, the RTX 2080 Super will most likely start at the end of July.
With the Nvidia Super-GPUs, Nvidia wants to intervene with AMD in particular. The competitor had introduced the new Radeon Navi graphics cards in the form of the RX 5700 and RX 5700 XT at the E3 2019. These will go on sale together with Ryzen 3000 on the 7th of July and will mainly compete with the current RTX 2060 and RTX 2070. AMD would have had an advantage due to slightly lower prices and a significantly higher performance. With the Super-GPUs Nvidia balances again. It will be particularly exciting to see whether the graphics cards perform better than the Radeon Navi models. If they don't, AMD still has a good selling point. Since the new Super models from Nvidia will not be cheap, a worst case scenario for the Reds is far away. But the market has to show it.
Picture of the RTX 2070 Super Founders Edition leaked
Shortly before the market launch of the Super GPUs, the first image of the Founders Edition has also soaked through. As so often, the picture comes from Videocardz and shows a Nvidia GeForce RTX 2070 Super Founders Edition. This is not a render image, but a photo. The Vapor Chamber cooler of the graphics card has remained the same, only details have changed. The graphics card now shows a green, milled "Super" emblem after the "RTX 2070" lettering. The otherwise matt, black surface is now glossy black or silver – the angle of the light does not allow an exact definition. According to Videocardz, the cover is silver. The design should be standard for all three upcoming GPUs.