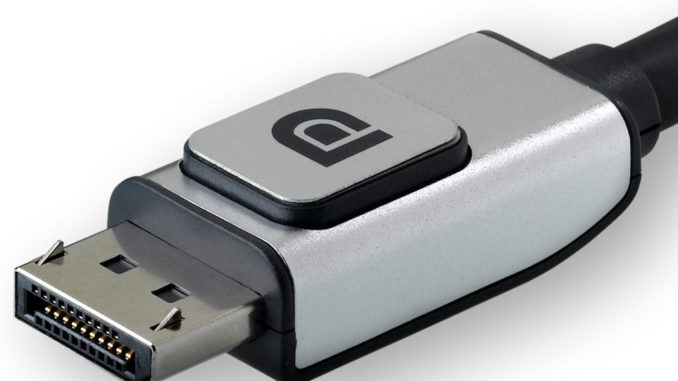 VESA has introduced the new DisplayPort 2.0 standard. Due to a greatly increased bandwidth, it already masters the 16K resolution at 60 Hz.
DisplayPort 2.0 comes with significantly increased bandwidth
The Video Electronics Standards Association (VESA) has introduced the new DisplayPort 2.0 standard. The new DisplayPort version definitely deserves the version number 2.0, because the bandwidth has increased enormously. While DisplayPort 1.4a still had only 32.4 Gbps to deal with, DP 2.0 offers 80 Gbps of bandwidth. There has been a change in the net data rate, which is 77.4 Gbps due to the better 128b/132b encoding. Thus the loss is clearly smaller than with the predecessor where the net data rate is only 25.92 Gbps through 8b/10b coding. DisplayPort 2.0 is also clearly superior to the newly introduced HDMI 2.1 standard. HDMI 2.1 reaches 48 Gbps.
16K at 60 Hz
With DP 2.0, VESA is primarily preparing for significantly higher resolutions. Although almost no displays with 8K resolution can be purchased yet, the new standard can even handle 16K at 60 Hz and 10 bit color depth. This requires the Display Stream Compression. Without compression, there is also support for 10K at 60 Hz and 8-bit color depth per color channel. 8K is also naturally supported. Daisy Chaining also gets a whole new dimension of size. The new standard also creates two 8K screens with 120 Hz and 10 Bit with activated DSC via one cable. Without DSC, three 4K screens with 90 Hz and 10 bits are also possible.
DisplayPort 2.0 also has some advantages when used in docks. The halved data rate with simultaneous transfer of USB data is no longer a problem and in combination with DSC even three 4K screens can be controlled at 144 Hz and 10 bit colour depth. The release of Thunderbolt 3 by Intel also supported this development. DP 2.0 has the same internal circuits as Thunderbolt 3, but uses its own transmission protocol. The connectors do not change with DisplayPort 2.0, but the VESA focuses on the USB-C. The first devices with the new standard are expected by the committee at the end of 2020. At this time, the first devices with USB 4 are expected to start.