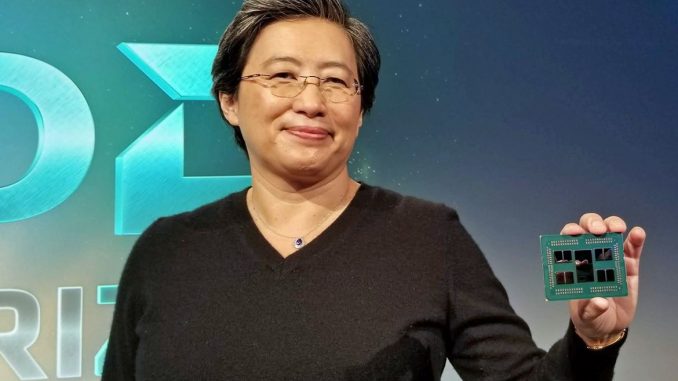 AMD's new server CPUs Epyc 2 alias Rome will also be launched soon. Now a benchmark of an Epyc 7452 with 32 cores and 2.35 GHz rate has appeared.
Epyc 2: 7nm, Chiplets and up to 64 Cores
With the Zen processors, AMD has not only launched Ryzen and Threadripper, but also the first generation of server processors called Epyc. While Ryzen and Threadripper have also received an intermediate generation (Zen+), there are new Epyc processors with Zen 2. AMD presented this at the end of 2018. A noticeable feature was the significantly changed structure. While the first generation of Epyc processors, codenamed Naples, still had four dies with integrated processor cores, cache and controllers, Epyc 2 does not. There is a central management die here that is produced in 14nm. This manages memory and I/O, which should bring advantages especially with memory access. Up to eight additional 7nm chiplets are connected to these management die, each containing up to eight processor cores and the cache. Thus Epyc 2 comes up to 64 cores in the full development.
However, it is not clear yet when the processors will be launched on the market. Although AMD has announced that Epyc 2 such as Ryzen 3000 and Radeon Navi will be launched in the Q3, there is no exact date or more detailed information available. It was originally planned that Epyc would come before the consumer products, but apparently nothing is going to happen. But it can't be long before more and more data leaks out.
Benchmarks of Epyc 7452 with 32 cores leaked
There are also leaks in AMD's Epyc processors. Some time ago a benchmark of a 64 core with 2.2 GHz boost clock was leaked. Today's leak is about an Epyc 7452, which comes with 32 cores and 2.35 GHz boost clock and is the successor of the Epyc 7451. AMD apparently hasn' t bothered too much with the names. However, the technical data have changed since the predecessor had only 24 cores. The Epyc 7452 is the actual successor of the Epyc 7551, which is equipped with 32 cores at 2 GHz clock. The strength of the processor with Zen 2 cores is shown by the benchmarks that also appeared. These come from OpenBenchmarking.org, but have disappeared in the meantime. We therefore refer to the verified results of our colleagues at ComputerBase.de. On average in all benchmarks, the system with two Epyc 7452 is 44 percent faster than the system with two of the predecessor processors Epyc 7551. This is made possible by a higher clock rate and a higher IPC.
It is still unclear when the Epyc 2 series will be released. However, the leaked benchmarks impressively show how strongly the higher IPC and the higher possible clock rate due to the better structure have an effect on the processors. Epyc 2 could therefore take one or several percent of the market share away from the competitor in the server market, which is almost monopolised by Intel.