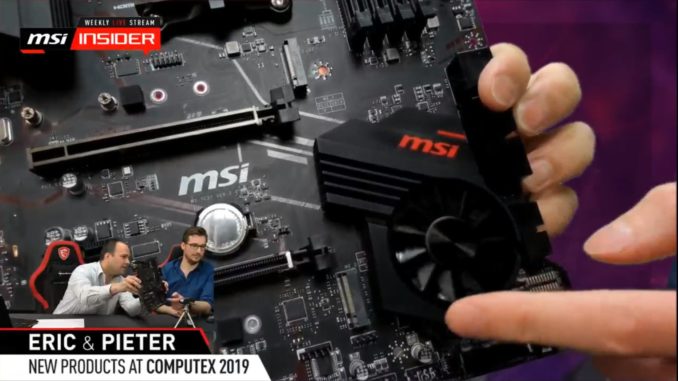 Ryzen 3000 in combination with the X570 chipset also supports PCIe 4.0. B550 and A520 for beginner boards can only support PCIe 3.0 and come from ASMedia.
PCIe 4.0: unnecessary or not?
The new Ryzen 3000 generation from AMD is the first mainstream processor generation to support PCIe 4.0. The new connection standard provides twice the bandwidth of PCIe 3.0, making some things possible that were not possible before. The first PCIe 4.0 SSDs are significantly faster. The standard can also have a positive effect on data throughput with graphics cards, but the difference to PCIe 3.0 is not that big. The first graphics cards that also support PCIe 4.0 also come from AMD. These are the new Radeon Navi graphics cards RX 5700 and RX 5700 XT.
This raises the question of how useful PCIe 4.0 is in the first phase. It can take years until new technologies and applications emerge. From today's point of view, not many people benefit from it. AMD could even completely spare the middle class.
B550 and A520 again from ASMedia, without PCIe 4.0 support
According to the Taiwanese magazine Digitimes, AMD is again relying on ASMedia to produce its mid-range chipsets. The X570 chipset is AMD's own development, after the previous generations were all developed by ASMedia. For B550 and A520 AMD will also rely on the manufacturer. The I/O hub that ASMedia sells, however, does not handle PCIe 4.0, but only PCIe 3.0. The first chipsets with PCIe 4.0 from ASMedia will probably not be launched until 2020, the tape out is not expected until the end of 2019 – too late for the entry-level motherboards for Ryzen 3000. Motherboards with B550 chipsets are expected to be launched at the end of 2019.
However, it remains open whether B550 and A520 motherboards will generally not support PCIe 4.0. After all, 24 lanes come directly from the processor. The chipset is connected with four lanes, four lanes are intended for one M.2 slot. The remaining 16 lanes are usually intended for the first PCIe x16 slot. It is therefore possible that only the lanes provided by the chipset come with the "obsolete" standard. If you want PCIe 4.0 for all lanes, you probably have to use an X570 mainboard. However, these could become very expensive.