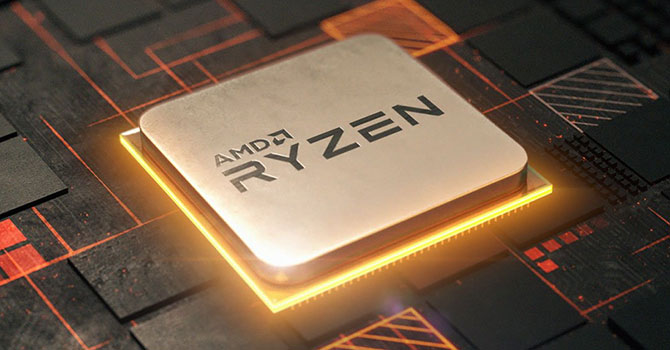 Before the launch of AMD Ryzen 3000 more and more details leak out. A YouTuber now claims to have heard that the Ryzen 7 3700X reaches 5 GHz boost clock.
AMD Ryzen 7 3700X as new gaming reference?
With the Ryzen 3000 generation, AMD finally switches from the 14nm and 12nm process to TSMC's 7nm process. Through the shrink of architecture, a new multi-chip module approach, and generally simple improvements, this generation could be particularly powerful. AMD itself has already confirmed that more than eight cores are planned for the processor series. The new chiplet approach, where a 14nm chip manages memory and I/O and the processor cores are outsourced to 7nm chips, could enable a total of 16 cores. It remains to be seen whether AMD will realize its full potential, but it would be a logical step.
Especially for gamers, however, it is not a top model with 16 cores that comes to the fore, but a model with 12 cores. A potential Ryzen 7 3700X only indirectly inherits its predecessor Ryzen 7 2700X. While the previous top model still comes with eight cores, the Ryzen 7 3700X should have 12 cores. The IPC is also said to have risen by 15 percent. However, even more amazing is the clock speed. While the first Ryzen 9 model with 16 cores might only have a 4.2 GHz clock rate, the 3700X is supposed to have a clock rate of up to 5 GHz. The combination of 12 cores, high clock rate and increased IPC could make the processor an absolute monster for games. AMD's competitors could also be left behind with such a processor. This year Intel is planning a processor called Comet lake with ten cores, but it will again come with a 14nm structure width – and the competitor can't really improve the manufacturing process any more. A YouTuber now claims to confirm that the Ryzen 7 3700X actually comes with 5 GHz boost clock and 12 cores.
12 cores and 5 GHz allegedly confirmed
The YouTuber RedGamingTech has published new details about Ryzen 3000 processors in its latest video (from 4:24 on). While the Thai TUM APISAK last week published data of an engineering sample of a 16 core part, RedGamingTech has information on a 12 core CPU. The information will both come from samples that motherboard manufacturers and OEMs have received to test and develop. AdoredTV also alludes in a tweet to the presumed Ryzen 7 3700X and high clock rates, but doesn't want to publish them.
The situation is different with RedGamingTech. According to the video, the YouTuber has talked to some of his own sources who have confirmed that the alleged Ryzen 7 3700X actually reaches a clock rate of 5 GHz. However, his sources are not sure exactly what the value means. On the one hand an all-core turbo could be meant, on the other hand only a smaller number or even only one core could reach the 5 GHz value. How reliable the information is is very difficult to answer. Basically you should always keep in mind that this is not confirmed information.
Funnily enough, even before the launch of the second Ryzen generation, there was a rumor that the Ryzen 2000 top model will feature 12 cores and 5.1 GHz. What was then dismissed as rather absurd and of course did not happen, is now wandering through the rumor mill again. The big difference is that this time it could actually become reality. We will learn more at Computex 2019.