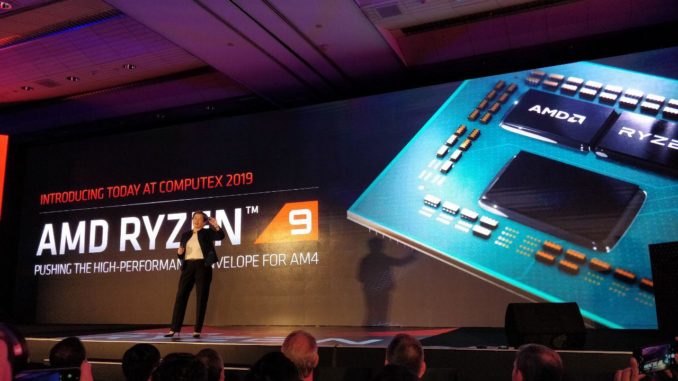 Today AMD introduced the new Ryzen 3000 generation and surprised with the fact that only up to 12 cores are installed. But also a 16-core CPU exists.
No 16 cores at AMD presentation
AMD has significantly changed the structure of its processors with Ryzen 3000. Now there is a central management chip to which up to two 7nm chiplets can be connected. Each of these chiplets has up to eight cores, which would theoretically enable 16 cores on an AM4 package. Benchmarks have already been leaked that point to processors with 16 cores.
The CEO keynote at Computex, at which Lisa Su officially presented Ryzen 3000, was followed by a disillusionment. When the AMD CEO presented the Ryzen 9 3900X with 12 cores, an irritated sound went through the crowd, as practically everyone had expected a 16 core processor. The Ryzen 9 3900X also performs well, but a 16 core CPU on AM4 would have been a final humiliation for Intel. However, the fact that AMD has not released a Ryzen 3000 processor with 16 cores does not mean that there will be none. After the presentation, the first indications of this were already condensed.
Another benchmark of a Ryzen 3000 with 16 cores leaked
Once again there was a leak right on site. The YouTuber Tech Yes City talked to unnamed people who were allowed to clock a Ryzen 3000 processor with 16 cores in the background of the Computex. This is an engineering sample, but it should already be very close to the real product. With water cooling, the processor ran stable at 4.25 GHz. The Cinebench R15 test was also carried out with this clock rate. The sample reached 4,364 points in the multicore test. That is twice the score of the Ryzen 7 2700X and even two and a half times the score of the Ryzen 7 1800X. According to the overclockers, the sample could also be clocked at 4.1 GHz without any problems and special cooling.
This leak proves that AMD is actually planning a 16-core. It is difficult to say why the company did not present the processor at Computex. One possibility is that AMD will save this step for later. Production problems could also have led to this. We can only speculate when and whether the processor will actually come onto the market. However, since AMD has developed the processor, we do expect it to be launched on the market. Only the name could then become a problem. A Ryzen 9 3950X would collide with a possible third generation Threadripper at name.