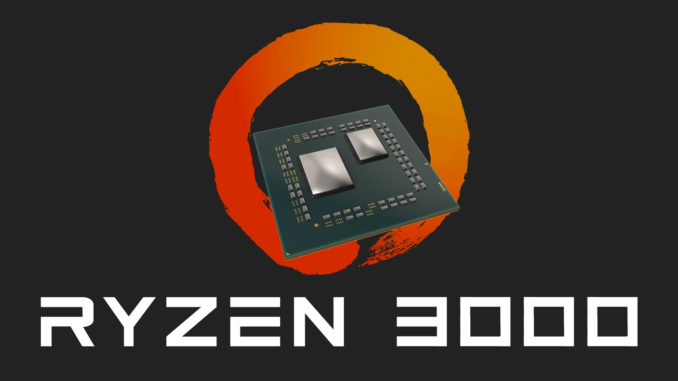 A Cinebench R15 result of a Ryzen 3000 processor with 16 cores leaked out. In the benchmark, the CPU at 4.2 GHz clearly beats the Intel Core i9-7960X.
Ryzen 3000 with high IPC and many cores
With Ryzen 3000 AMD changes a lot in the chip structure. The new structure consists of a management die and smaller chiplets containing the processor cores. Thus up to 16 cores are possible with the same AM4 socket. Just before the official presentation more and more details of the new processors come to light. There is already information on a 16-core CPU, which is supposed to reach 4.2 GHz in boost. At first this sounds a little bit unimpressive, as up to 5.1 GHz for a Ryzen 9 3850X was leaked in advance. However, this is supposed to be the absolute top model, which might come onto the market later. For a good gaming performance, on the other hand, a 12-core Ryzen 7 3700X is more likely to be intended. This should reach up to 5 GHz in boost.
In addition to the rate and number of cores, however, the IPC is also said to have increased significantly. In one leak it is said that Ryzen 3000 will have 15 percent more IPC power. A leaked Cinebench R15 benchmark shows just how much this value can also influence performance.
16 Zen 2 cores at 4.2 GHz clearly beat Intel
The leak comes once again from YouTuber AdoredTV. In his last video, he claims to have received a screenshot of a Cinebench R15 benchmark result. According to him, this screenshot comes from a secure source. The tested processor is said to have been a Ryzen 3000 processor with 16 cores. This was overclocked to 4.2 GHz on all 16 cores and tested in the benchmark. The processor reached an incredible value of 4,278 points. For comparison, a Ryzen 7 2700X scores a good 1,800 points, while a Threadripper 1950X scores a good 3,100. The Intel Core i9-7960X, which also has 16 cores, barely achieves more with a good 3,200 points. In order to get the result of the leaked Ryzen 3000 processor, an overclocking to almost 4.8 GHz is necessary, as can be seen on Hwbot.
If the benchmark is authentic, AMD definitely has a hot potato in the fire with Ryzen 3000. However, we would like to underline once again that this is a rather loose leak from AdoredTV. In the past, the YouTuber has already leaked exact details several times, but was wrong, for example, with its statement that Ryzen 3000 will be presented at CES 2019. At Computex 2019 at the latest, we will know more.