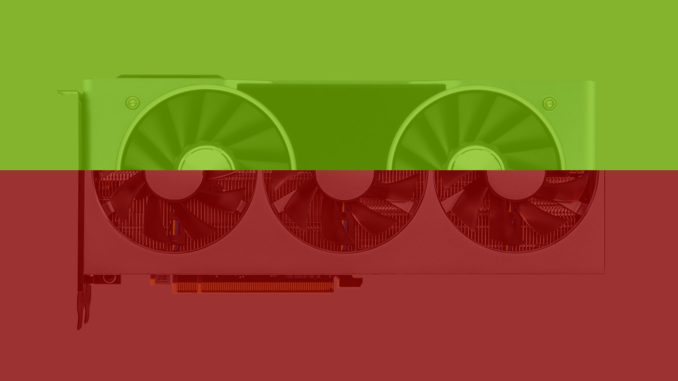 An anonymous hint to Videocardz claims that Navi will be AMD's "Maxwell moment", a breakthrough. Nvidia is said to plan a RTX 2070 Ti.
Anonymous hint: Navi is AMD's "Maxwell moment"
AMD is launching its new Navi architecture in the second half of the year. It replaces Vega and Polaris. After the Radeon VII, it is AMD's second graphics card generation with a 7nm structure width and is aimed at the mainstream market. The provisional top model is supposed to compete against the RTX 2070 from Nvidia and be unbeatably cheap.
In addition, the well-informed website Videocardz has now received an anonymous hint which the author WhyCry has published on Twitter. The anonymous source names concrete data of a Navi graphics card. It's supposed to come with 40 compute units and 2,560 shaders. The graphics card's clock rate should be above 2 GHz and thus 30 percent above Polaris. But the last sentence "Also with Radeon's Maxwell sauce" is the biggest cause for speculation. With the Maxwell generation and the GTX 900 graphics cards, Nvidia has succeeded in creating an excellent generation. The sentence is therefore intended to indicate that Navi could be a breakthrough for AMD with similar success like Nvidia Maxwell.
Nvidia allegedly plans RTX 2070 Ti with more cores
But the competition doesn't sleep either. Nvidia is supposed to plan the counterstrike in the form of a RTX 2070 Ti. As reported yesterday, there seem to be plans to build a Turing refresh with faster GDDR6 memory. The anonymous hint now also reveals a different point of view. Instead of just faster memory, more CUDA shaders should also be built in. The main opponent of a potential RX 3080 XT would then be a RTX 2070 Ti with 2,560 instead of 2,304 CUDA cores and the TU104 chip of the RTX 2080. The memory clock, on the other hand, should remain the same.
However, another version of the RTX 2080 Ti fits more difficult into the concept. This calls the source "RTX 2080 Ti-R", which could also simply stand for Refresh. It should be equipped with faster and slightly more memory. Instead of 11 gigabytes of 14 Gbps memory, 12 gigabytes of 16 Gbps memory should be installed. Additionally it should have more cores than the normal RTX 2080 Ti. Instead of 4,352 cores, 4,480 cores are to be used, which is still below the TU102's full capacity of 4,608 cores.
Caution, rumors
It is very difficult to say what or whether any of this applies at all. We would therefore like to stress once again that this is an absolutely unconfirmed rumor. However, everyone should be aware that AMD has a hot potato in the fire with Navi. However, it remains to be seen whether Nvidia actually plans a counterstrike. It would be logical if we remember the GTX 1070 Ti as an RX Vega 56 opponent.