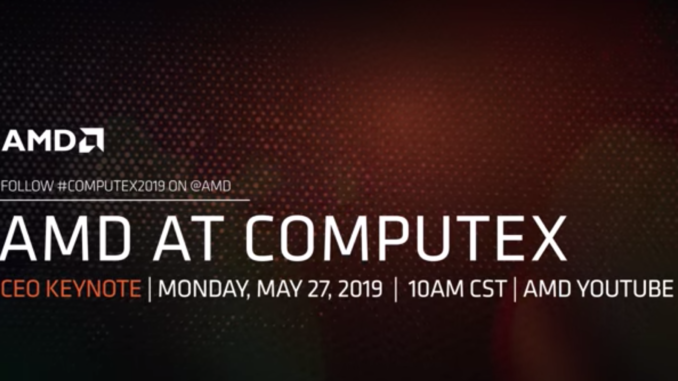 On Monday, May 27 2019 at 10 am local time (10 pm ET) the AMD keynote will start at Computex 2019. Ryzen 3000 and details about Radeon Navi are expected.
The Livestream
The Computex is dominated by AMD
First preliminary events and meetings for Computex 2019 are already taking place these days. The computer fair is one of the largest worldwide and absolute hotspot for all manufacturers from the industry. For more than a week, all the major manufacturers, exhibitors and the international press will gather here. New products from major manufacturers are often launched here.
This year Computex is definitely dominated by AMD. The company is represented with Lisa Su in this year's CEO keynote and probably has many exciting things in its luggage. A presentation of the new Ryzen generation called Ryzen 3000 is rather fixed, but not confirmed. The processors are to be launched on the market with up to 16 cores, increased IPC and significantly increased clock rate. In addition, there is a new chipset called X570 with matching motherboards, some of which will probably also be on display at Computex.
But there could also be details about other products apart from Ryzen 3000. In the third quarter of 2019, the new graphics card generation called Navi is also scheduled to be launched. According to many leaks, AMD will specialize in the mid-range segment with Navi and will defeat the RTX 2060 and RTX 2070 as the main opponents. But we don't expect a launch at Computex, that's probably what the Next Horizon event at E3 is for two weeks later. Nevertheless, the first details about Navi could already be presented.
Livestream from 10 am local time/10 pm ET
The CEO keynote will of course also be broadcast live on the Internet. The keynote starts at 10 am local time, which corresponds to 10 pm Eastern Time. You can follow the keynote via YouTube and Facebook. The YouTube stream is not online yet, but as soon as it is, we will integrate it here. Alternatively, the stream can also be found via AMD's YouTube channel.