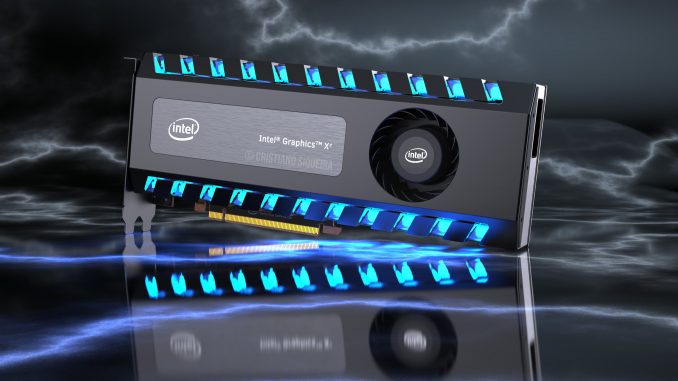 The upcoming Intel Xe graphics cards will also be able to handle raytracing. However, the technology is only used in data centers, not for games.
Intel Xe can do hardware-accelerated raytracing
With Intel Xe, the world's largest processor manufacturer Intel is expanding its portfolio to include dedicated graphics cards from 2020 on. Previously known as Arctic Sound, these graphics processors are used in Intel Core processors as Gen11 graphics units, as well as in data centers and as dedicated gaming graphics cards. The company is thus also entering the market for server and gaming graphics cards alongside Nvidia and AMD.
While Nvidia is using real-time raytracing technology for games for the first time with the Turing series and AMD might also use raytracing with the Radeon Navi generation, Intel seems to be taking a different approach. Although graphics cards like Nvidia's RTX graphics cards should be able to handle hardware-accelerated raytracing, the target group is not gamers, but data centers.
Raytracing comes into the data center at Intel
The term raytracing came to everyone's lips through Nvidia and Turing. Some games like Battlefield 5, Shadow of the Tomb Raider and Metro: Exodus already rely on the technology. On a large scale, however, raytracing is mainly used in the film industry for effects, animations and the visualization of light and shadow. For large productions, separate server farms are only available for raytracing calculations.
With Embree and Open Image Denoiser, Intel also offers very popular software approaches for raytracing. With its own Xe graphics cards, the company is now taking the next logical step. Jim Jeffers, Senior Principal Engineer of Intel's Advanced Rendering division, has announced that Intel Xe will have its own hardware acceleration for raytracing. Jeffers names the dedicated data center area for which the raytracing hardware is intended. Whether Intel is cutting Xe graphics cards for consumers will probably first have to be shown by a product launch. The consumer variants will probably be based on the datacenter variant, but could come without raytracing hardware. At the moment there seems to be no raytracing support planned for games – at least not with dedicated hardware.