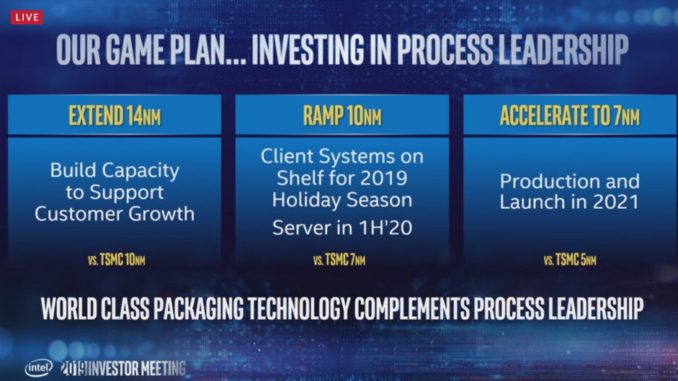 Intel has concretized 10nm at the Investor Meeting and gave details for 7nm. 10nm CPUs are available for Christmas in notebooks, 7nm as of 2021 in Xe GPUs.
Intel 10nm processors are coming to Christmas 2019 in notebooks
At this year's Investor Meeting, the world's largest processor manufacturer Intel presented some interesting details about upcoming products. One of the most important questions is when the first 10nm processors will finally be released on a large scale. In its presentation, the company confirms that the time has indeed come for 2019. The structure width actually already announced for 2015 comes first in notebook processors, as was the case with previous technologies. The already predicted date for the first products should also be kept. For the Holiday Season, the first products with 10nm processors will be on the shelves in time for Christmas.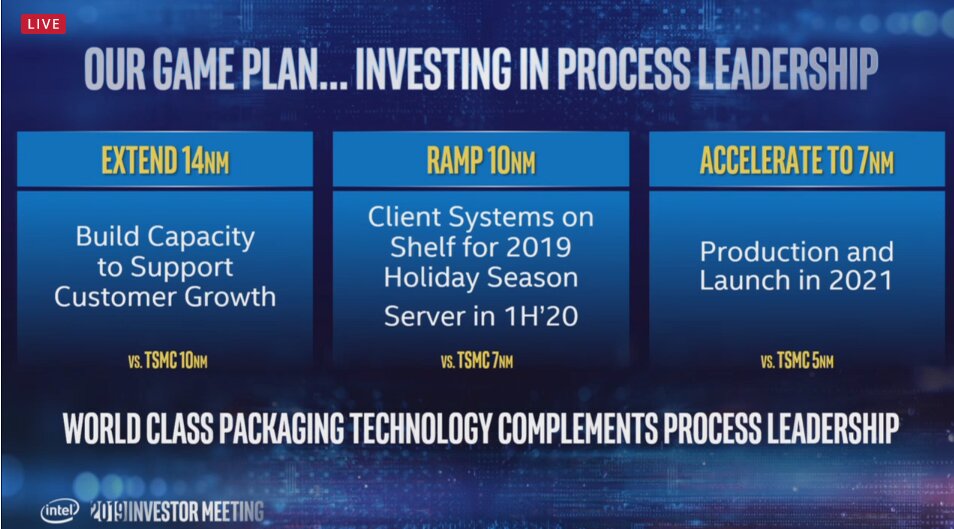 Specifically, these are client systems with Ice Lake processors. Ice Lake is after Cannon Lake, which only existed in the form of a single processor, the first architecture with 10nm, which Intel is large-scale rearing. The company also published a die-shot of a quad core and some rather vague data. The graphics performance of the Gen11 graphics unit is said to be twice as high as that of its predecessor. The AI performance is said to have been increased by a factor of 2.5 to 3, video encoding with the 10nm processor is said to be twice as fast. Wi-Fi 6 is also integrated with Ice Lake and is said to be three times faster than traditional 801.11 ac connections. Starting in June, Intel will deliver the processors to the OEM partners.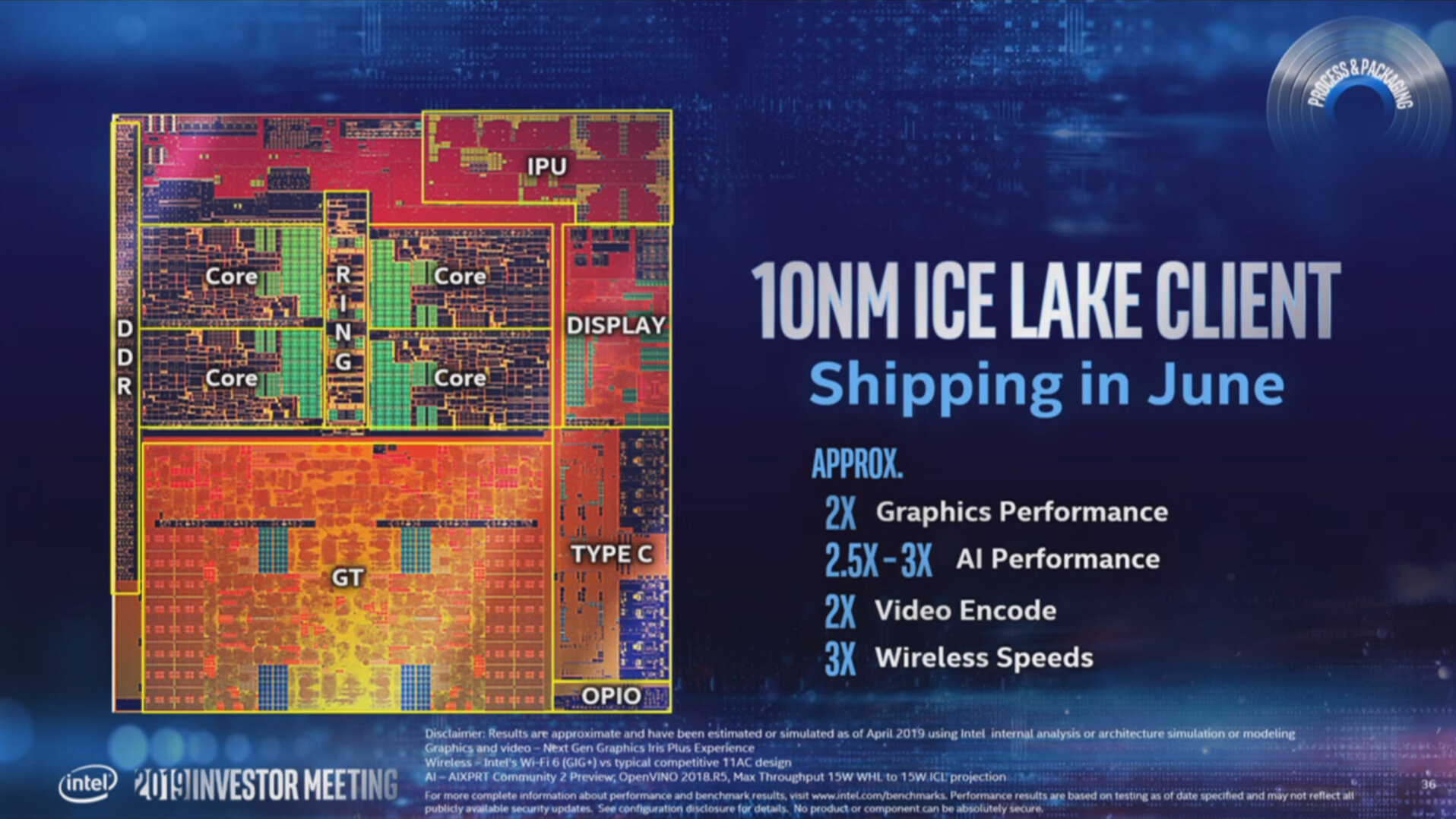 For desktop processors it still looks bad with 10nm. A roadmap indicates that the first 10nm desktop processors will not come onto the market until 2022. Also a new socket and chipset for the generation called Comet Lake has recently been leaked. On the other hand, the server market looks better. Here Intel confirms a launch of 10nm processors for the first half of 2020.
7nm starts 2021 in GPU sector
The launch of the company's first dedicated graphics card, called Intel Xe, will also be interesting next year. At the investor meeting the company unfortunately didn't have any details in its pocket, but a different graphics card. In the year 2021 Intel wants to start the mass production of 7nm processors. The first products, however, are not notebook processors as usual, but Xe graphics cards. In 2021, a so-called GPGPU is to be launched on the market. This is a graphics chip that is designed for professional calculations and not for actual graphics calculations such as games. This chip is to be especially designed for the areas of High Performance Computing (HPC) and Artificial Intelligence. Intel also uses Foveros stacking technology, in which various chips such as memory, cache and processors are stacked on top of each other.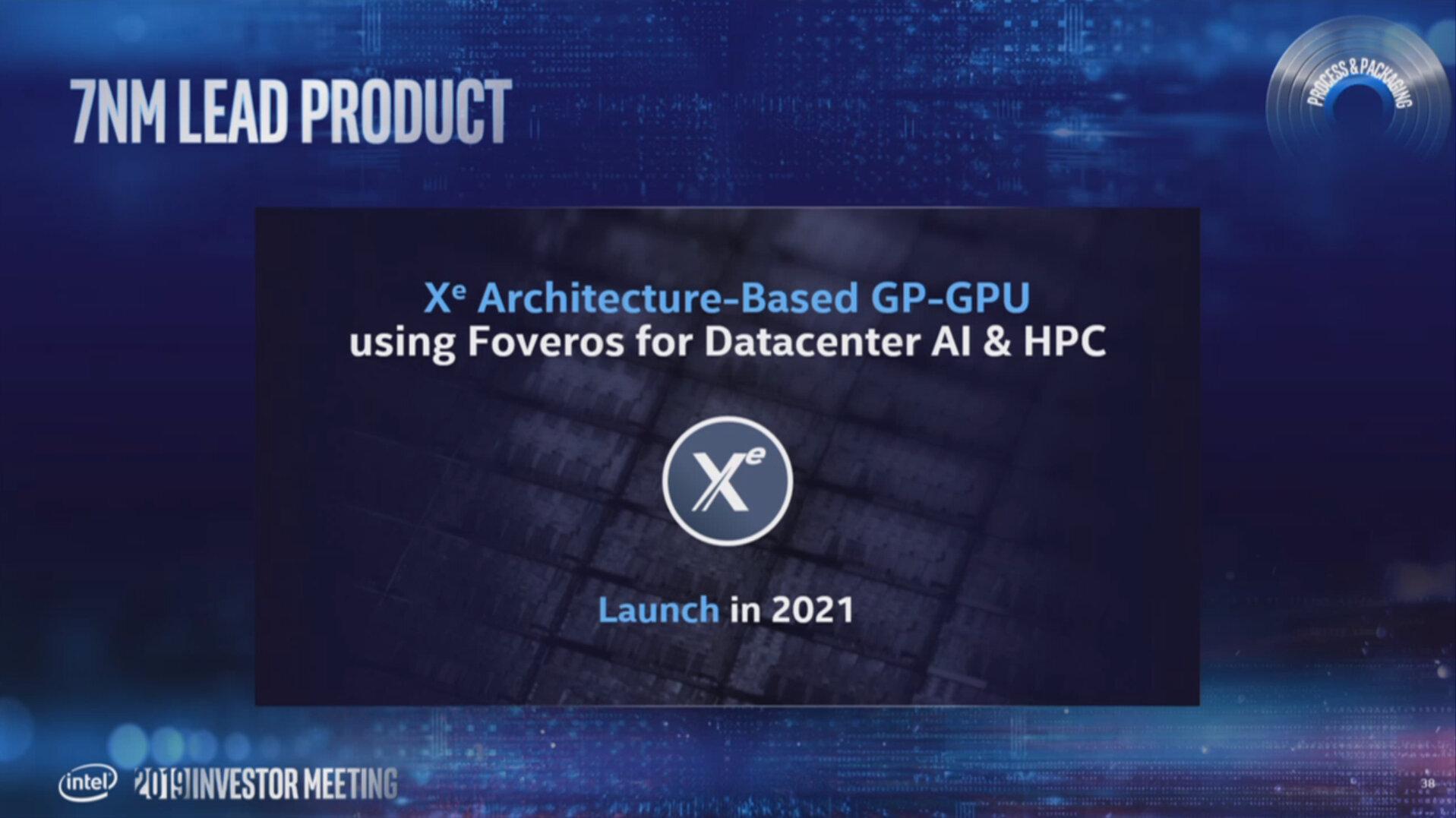 However, Intel did not announce when the first 7nm processors would come onto the market. Since we can't expect 10nm CPUs in the desktop area until 2022, however, it should take much longer with the CPUs. In any case, Intel is also planning a + and ++ version for the 10nm and 7nm node, i.e. 10+ and 10++ as well as 7+ and 7++. The company also emphasizes that it can already compete against TSMC's 5nm process with its own 7nm process. It remains to be hoped that 10nm and 7nm will not be refreshed like 14nm forever.