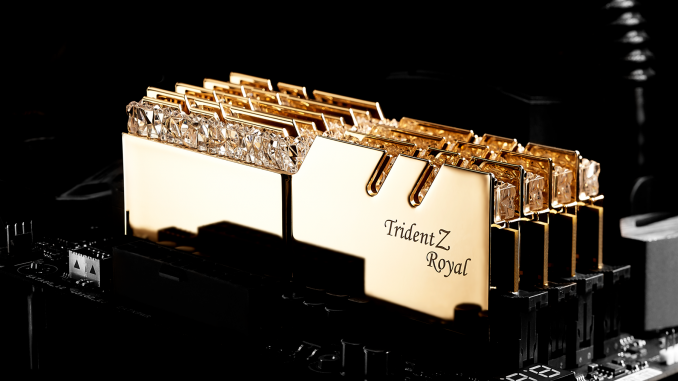 The Samsung B-dies were probably the best overclockable RAM modules. The company is now replacing the storage type with A- and M-dies.
Samsung stops B-die production
Since the introduction of Ryzen processors, a higher clock rate and better latency are more important than ever for RAM. While Intel systems don't benefit as much from higher clock speeds, Ryzen processors can get a decent boost when using faster memory. 3,200 MHz at a CL16 latency have therefore virtually established themselves as the standard.
But there are also memory modules with significantly higher clock rates. The fastest memory module currently available relies on a memory clock of 4,800 MHz with a CAS latency of 18. Memory modules clocked as high as this have one thing in common: they rely on the B-dies from Samsung. Specifically, these are memory chips with a capacity of 8 GBit, which are installed on RAM modules. This allowed RAM modules to be equipped with eight gigabytes of RAM on one side and 16 gigabytes on both sides. The B-Dies are used in many higher-priced memory kits and score with high clockability on the one hand, but also with very good stability at high clock rates on the other. However, the DDR4 Product Guide of the South Korean manufacturer shows that the production of the B-Dies has already been stopped. Samsung replaces the modules with the A- and M-dies with more capacity.
A- and M-dies as replacement
According to the Product Guide, the B-dies are already in their third generation. They have reached the end of their life cycle in the second quarter of 2019. Samsung replaces them with the A- and M-dies, which are supposed to bring more memory to the main memory modules. The new dies will now be manufactured with 16 or 32 GBit instead of 8 GBit (= 1 Gigabyte). This is primarily intended to produce 32 gigabyte modules, which are mainly used in servers. It remains to be seen how well the new dies will perform in consumer use and what clock rates are possible. It remains to be hoped that the clock rates will be as high and stable as with the B-dies.