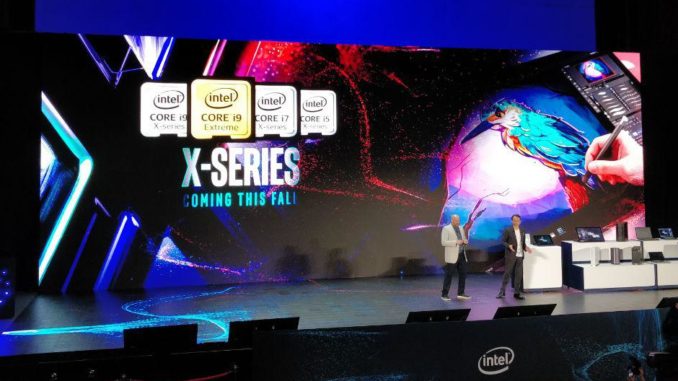 Intel announced new processors at their keynote. Cascade Lake-X is coming in fall, soon Xeon E and vPro 9th generation processors will also be available.
Cascade Lake-X comes in fall
At today's keynote speech at Computex 2019, Intel announced Ice Lake and several other processors. We were particularly surprised by the announcement of a new Core X generation. The HEDT platform currently relies on a Skylake-X Refresh with up to 18 cores. This autumn there will be new processors of the series. These are very likely based on Cascade Lake. Although Intel does not mention the name Cascade Lake-X at Computex, it is logical for the company to rely on the architecture that is already used in the Xeon CPUs. However, there are almost no details on the processors. Only the information that faster memory is supported, the CPUs are clocked higher and come with Intel Turbo Boost Max Technology 3.0.
Intel vPro now with up to 8 cores and 5 GHz as well as Xeon E
In addition to Cascade Lake X CPUs, Intel has also announced new processors for the professional market. Thus, the ninth generation (Coffee Lake Refresh in the desktop) is now also available as vPro processors. These are used in companies and can be managed and controlled remotely, for example. Security is also a major issue in corporate networks. However, the upgrade to the ninth generation has increased the clock rate and the number of cores in particular. The top model now comes with up to eight cores in both the desktop and notebook and supports up to 5 GHz in the desktop and up to 4.8 GHz in the notebook processor.
Also new are 14 Xeon E processors for desktops and mobile workstations. Here, too, Intel emphasizes the management features via vPro, but also the workstation features. Xeon E now also comes with up to eight cores, 16 threads and up to 5 GHz turbo, integrated support for WiFi 6 and Optane Memory H10.
Intel Core i9-9900KS comes at holiday season
There was little new information about the Core i9-9900KS presented on Sunday. The processor is a highly selected i9-9900K and runs at 5 GHz on all cores simultaneously. Intel has not yet commented on the TDP, which suggests high consumption. At least there was a release period on the Computex keynote. Accordingly, the i9-9900KS should also be available for the Holiday Season.
Notice:
Intel paid our travel expenses for Computex 2019, but has no influence on our reporting.