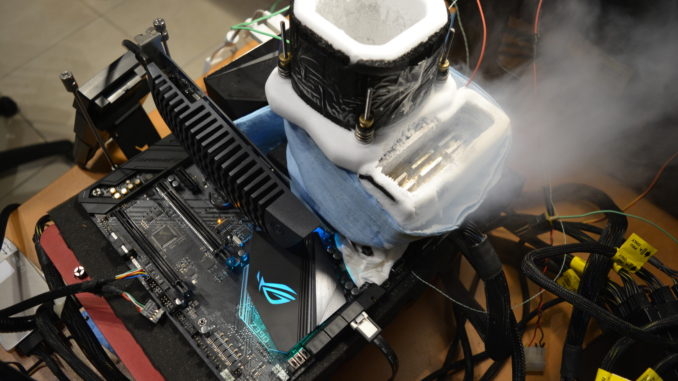 ADATA and Micron have both broken the same RAM OC world record. While ADATA reached DDR4-5634, Micron managed DDR4-5726 with Ballistix shortly afterwards.
RAM OC: ADATA breaks world record…
ADATA was very happy when they announced on May 15th that they had broken the current RAM overclocking world record. In internal test series, the memory manufacturer was able to break the current RAM overclocking record with a single 8 gigabyte module. The module reached 2,817.1 MHz clock rate, which corresponds to DDR4-5634. The timings were set at 31-31-31-46 3T.
For the world record, ADATA installed the single module on an MSI Z390I Gaming Edge AC and operated it with an Intel Core i9-9900K. Both the processor and the storage stick were cooled with liquid nitrogen. According to Hwbot, the DDR4 module is regularly designed for DDR4-4933 and equipped with Samsung's popular B-Dies, which are no longer manufactured. This model is not yet available on the market. The test team validated the record on May 10th via CPU-Z and outbid the previous record holder Toppc from Taiwan, who achieved 2,804.4 MHz and thus DDR4-5609 with a HyperX Predator module.
… and was beaten by Micron three days later
For a long time the ADATA team could not be happy about the record. The record published on May 15 was broken again two days earlier, on May 13, by Phil Strecker and Stavros Savvopoulos. The two overclockers, which operate under the name Overclocked Gaming Systems, have overclocked a Ballistix Elite module, which runs regularly with DDR4-3600, on behalf of Micron and thus broke the world record again. It is exciting to note that the Ballistix memory stick does not contain Samsung B-Dies, but Micron modules from the E revision. Savvopoulos describes the procedure of overclocking with this memory as "Plug and Play". Neither a Cold Bug nor a Cold Boot Bug occurred while cooling with liquid nitrogen.
As a system, the Overclocked Gaming Systems team relied on hardware from Asus and Intel. The motherboard was an Asus Maximus XI Apex, the processor was an Intel Core i7-8086K. With this combination, the two extreme overclockers finally managed to raise the clock rate to 2.863 MHz, which corresponds to DDR4-5726. Even DDR4-5729 was reached by the extreme overclockers, but they could not validate the result. The good behavior of the Micron E modules will probably enable some RAM OC records in the future as well.