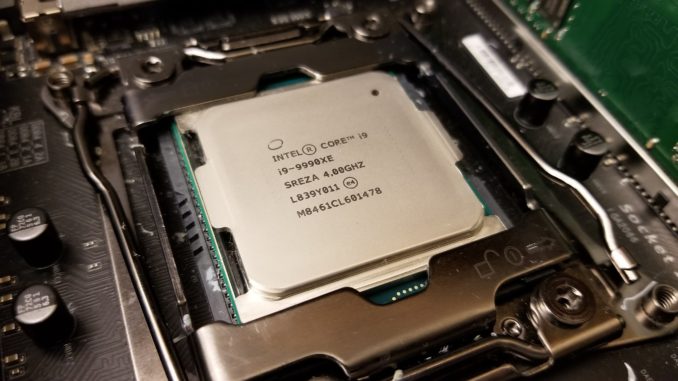 The Intel Core i9-9990XE is a high-end 14-core, but only available through OEM auctions. Caseking sells it now to private customers too – for 2,999 Euros.
Intel Core i9-9990XE: 14 cores with high clock rate for the performance peak
The Extreme Edition of Intel Core processors is usually reserved for the largest processors in the series. This is currently the Skylake-X refresh processor Intel Core i9-9980XE. It comes with 18 cores and a boost clock of up to 4.4 GHz (on one core), the standard clock is 3.0 GHz. Recently, however, the company placed another processor in the nomenclature above the i9-9980XE: the Intel Core i9-9990XE.
However, this one does not come with more cores, but mainly with more clock. So the processor is actually only a strongly preselected i9-9940X with 14 cores. The difference can be found in the clock speed. Thus the i9-9990XE achieves a full 5.0 GHz on all cores simultaneously and up to 5.1 GHz briefly on some of the cores. However, the high clock rates take their toll on power consumption. Thus a TDP of 255 watts is written on the data sheet. Some benchmarks from Puget Systems also show that the processor stands above the i9-9980XE with more cores. For example, the highly developed 14-core in the Adobe suite applications achieves 64 percent more performance than the i9-9940X and up to 15 percent more performance than the i9-9980XE. Especially in gaming, the processor should break further performance records. But for gamers it was hard to get – until now.
Caseking sells i9-9990XE regularly
This is due to the sales tactics Intel has chosen for the 14-core. The company holds a quarterly auction in which the i9-9990XE can be purchased. However, only OEMs, i.e. companies that regularly build computer systems, such as Dell or Puget Systems, are eligible to participate. Accordingly, the processors are not regularly sold to end customers via the retail aftermarket. Intel does not give a regular warranty on the strongly selected processors either.
At the last auction, a German OEM manufacturer apparently bid as well. It is none other than Caseking. The dealer currently offers the processor not only in high-end systems, but also sells it regularly. In this way, the company also enables private customers, at least in Germany, to purchase the processor including warranty. However, the CPU alone costs as much as a high-end gaming system. Caseking charges 2,999 Euros for the i9-9990XE.