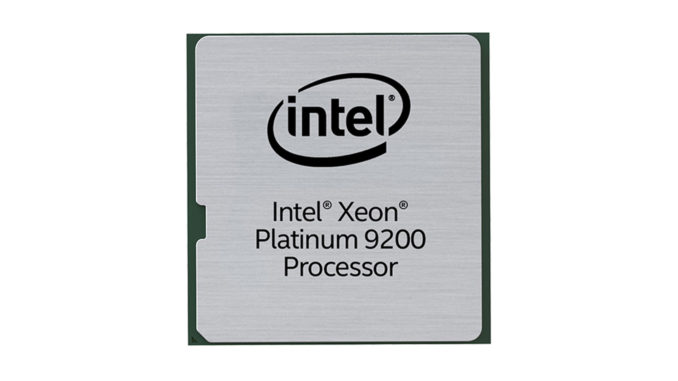 Intel today introduced the new Cascade Lake-AP processors. The Xeon CPUs feature a multi die design with up to 56 cores and 400 watts of TDP.
Cascade Lake-AP: Intel prepares against Epyc 2
The multi die design that AMD introduced with Epyc and the Zen architecture was initially smiled at by Intel. The company mocked the competitors by saying that the server processors were only "glued together desktop processors". The own Xeon processors are clearly better, because they consist of only one die. This summer AMD will release the second generation of Epyc, called Epyc 2 alias Rome. With this generation, the company doubles the number of cores once again to 64 – and confronts Intel with a huge problem.
Intel's Skylake-SP processors have so far "only" reached 28 cores. That was enough to keep AMD's first-generation Epyc processors with up to 32 cores in check, but it's definitely not enough for the new Epyc 2 CPUs. Therefore, Intel is now also taking the path of multi-chip design. With Cascade Lake-AP and the Xeon Platinum 9200 series, the company today introduced new processors that rely on such a design. The biggest processor named Xeon Platinum 9282 uses two dies with 28 cores each, so it has a total of 56 cores. This brings the company much closer to the competitor.
32, 48 and 56 cores distributed over two dies in Cascade Lake-AP
Simply said, Intel has packed two Cascade Lake-AP processors on one package. These are connected via the UPI, a connection that works similar to the connection of two CPUs in a dual socket system. Cascade Lake-AP is also primarily designed for such systems with two sockets. Thus, each processor has three links with which it is directly connected to the other die in its own processor and the two dies in the second processor. Twelve channels with a bandwidth of 281 GB/s are available for the storage connection. The DDR4-2933 standard is supported. Everything is mounted on a BGA package with 5,903 contact surfaces that have to be soldered directly to the motherboard. There is no LGA version, which can be a problem especially with dual socket mainboards if a CPU fails. It is not then easy to exchange.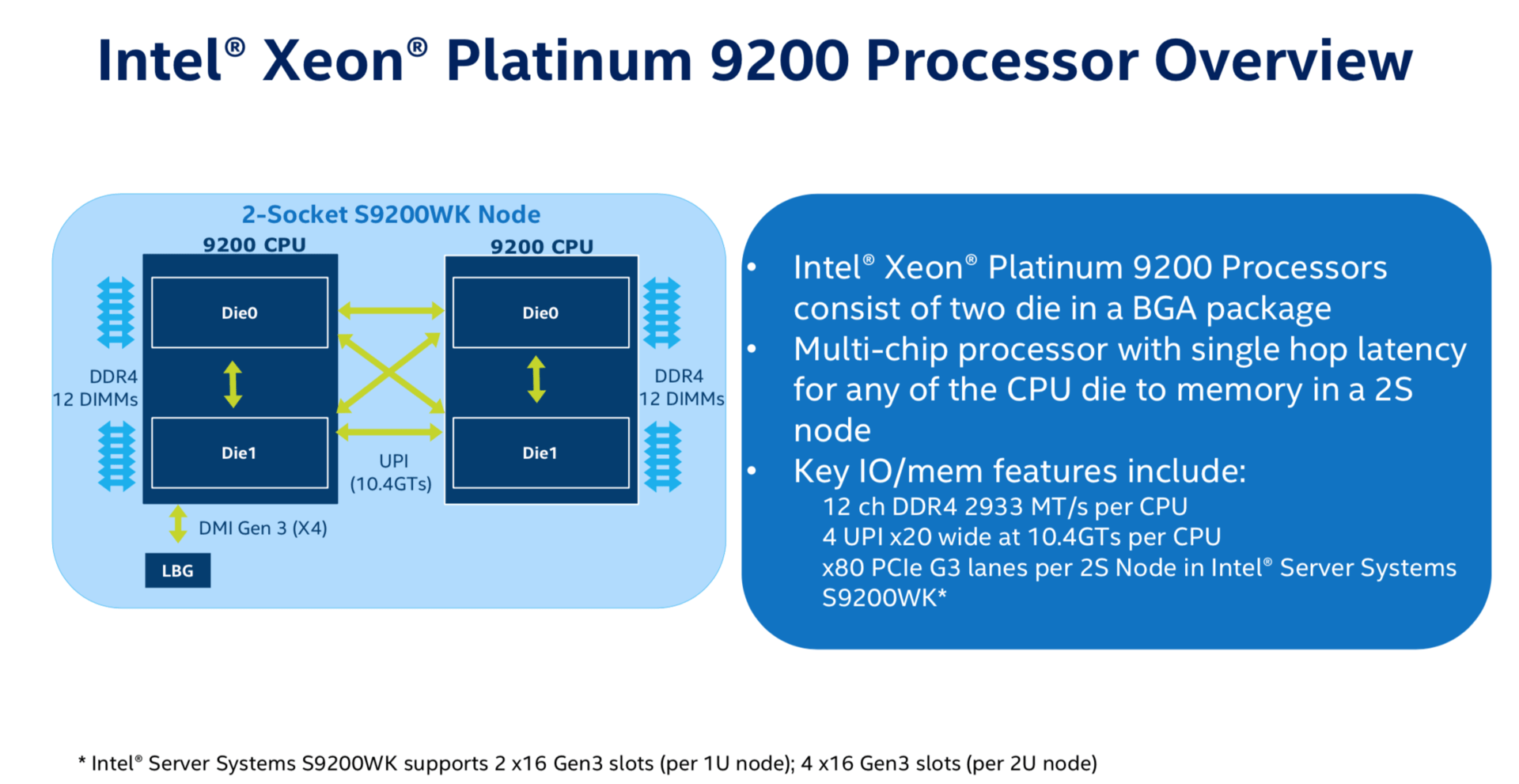 In addition to the largest model called Xeon Platinum 9282 with 56 cores, a base clock of 2.6 GHz and a turbo clock of 3.8 GHz, there are also three smaller models. The next smaller one offers 48 cores, 2.3 GHz base clock and 3.8 GHz turbo clock and is called Xeon Platinum 9242. Among them there is a 32-core called Xeon 9222 with 2.3 GHz base clock and 3.7 GHz turbo clock and another 32-core called Xeon 9221 with 200 MHz less base clock. But the high clock also takes its toll. The processors come with a TDP of 250 for the smallest up to 400 watts for the largest model. A correspondingly potent cooling is necessary.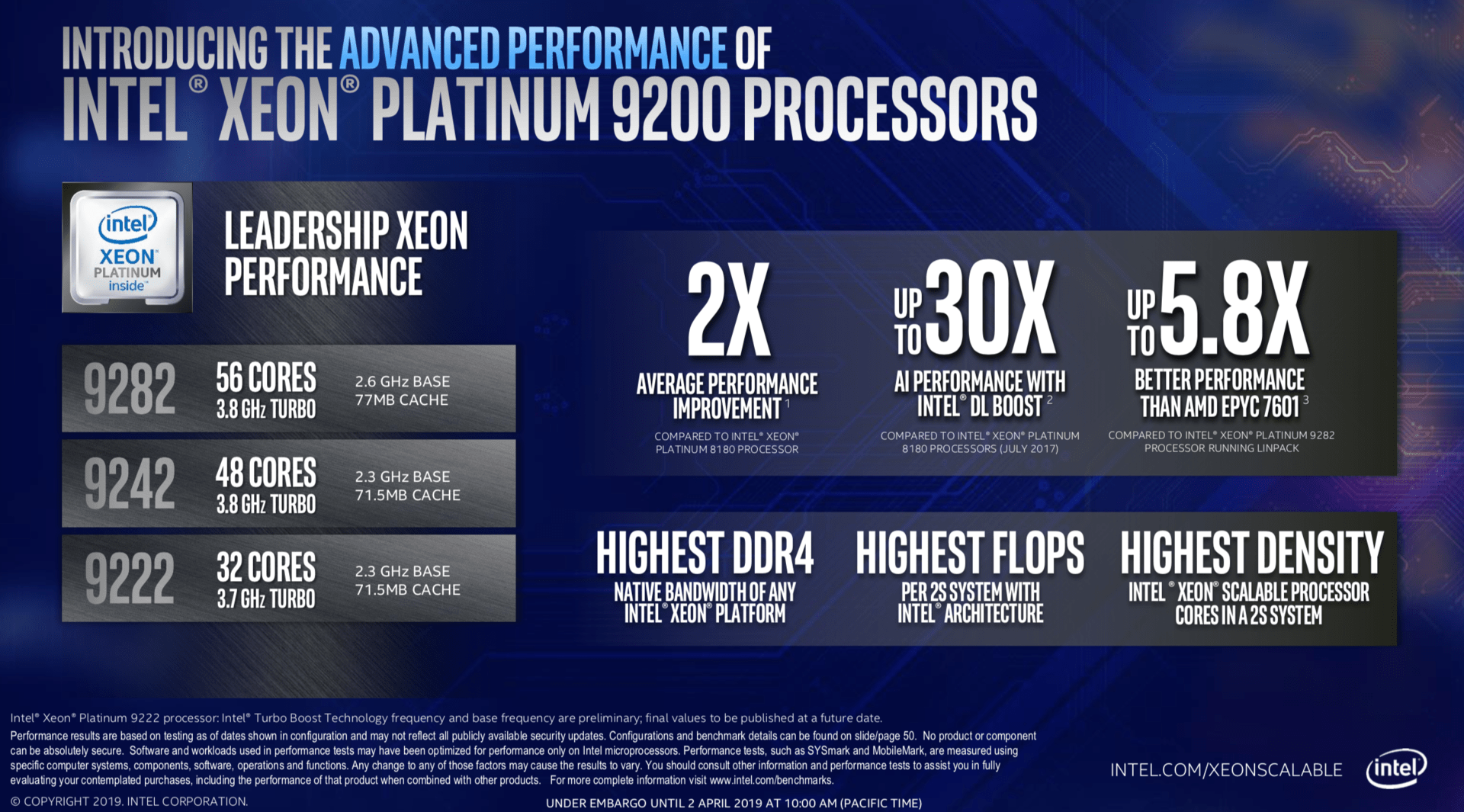 Benchmarks compare 48-core with AMD Epyc 7601
Prices for the Xeon Platinum 9200 processors, however, are not quoted by Intel. Sales start with white box products. Intel also sells the processors in its own, highly configurable server line on two rack height units or as a compute module with one height unit, optionally with water or air cooling.
Intel also presented some benchmarks of the 48-core Xeon Platinum 9242. The company compares the processor with AMD's (still) latest Epyc 7601 processor, which has 32 cores. The comparison also focuses on scalability in HPC clusters. Intel compares clusters of four and eight dual socket systems. The Xeon Platinum 9242 clearly beats the Epyc 7601. Depending on the test, the 48-core achieves four times the performance. How it looks against the new Epyc 2 processors and against a single processor or a single Dual Socket system, is still to be seen.