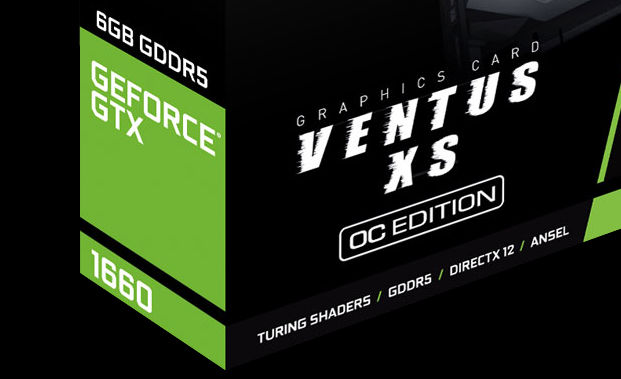 The GTX 1660 will soon hit the market. Now the first pictures of MSI-Custom-Designs leaked out. These confirm that GDDR5 memory is installed.
GTX 1660: GDDR5 for cheaper prices
With the GTX 1660 Ti, Nvidia has started to integrate the Turing architecture into GTX graphics cards. The main difference is that there are no tensor and RT cores, which reduces the cost. However, the 1660 Ti still comes with the relatively expensive GDDR6 memory. It is clocked a bit slower than the memory of the RTX graphics cards, but still much more expensive than GDDR5.
Soon, two further models will be launched beneath the GTX 1660 Ti: the GTX 1660 and the GTX 1650. The first model will be launched on March 14th. The website Videocardz has received first pictures and further information about the new graphics card. The models Gaming X, Ventus XS and Armor can be seen on it. MSI launches two models of all three series, both as OC and non-OC variants. Ventus C and Aero ITX models are also planned. The pictures come directly from MSI and confirm two things. On the one hand the pictures confirm once more the existence of the GTX 1660, on the other hand they show that Nvidia relies on GDDR5 memory. According to Videocardz, 6 gigabytes of GDDR5 memory are installed, which clocks at 8 Gbps. The website also has more information ready.
1.408 CUDA cores, 1,785 MHz boost clock
Due to the 6 gigabyte of GDDR5 memory, the GTX 1660 also uses a 192 bit interface. The chip is a slightly trimmed TU116, which is also used in the 1660 Ti. Instead of 1,536 CUDA cores, only 1,408 CUDA cores are used. However, the clock speed is a little higher. The GTX 1660 clocks at 1,530 MHz in the base clock and 1,785 MHz in the boost clock. The MSI GeForce GTX 1660 Ti Gaming X should reach 1,860 MHz at the boost clock. How well the graphics card performs has yet to be seen. However, a performance between the GTX 1060 and the GTX 1070 would be logical. The GTX 1660 thus competes directly against the RX 580 and RX 590 respectively. The planned launch date is March 14th.