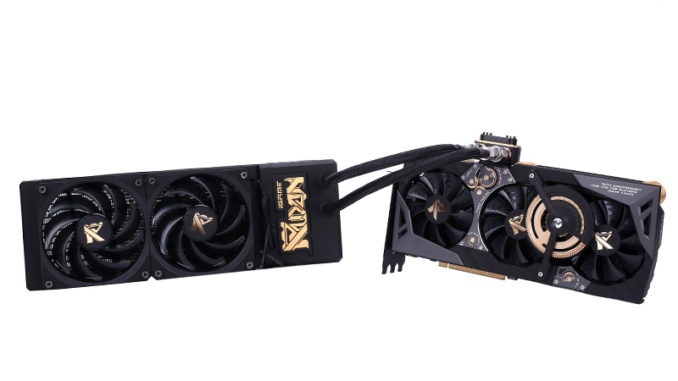 Colorful has introduced a new Turing design. The Colorful iGame GeForce RTX 2080 Ti Kudan comes with AiO, Triple Slot Cooler and $3,000 price tag.
Colorful relies on a huge hybrid cooler at Kudan
The Nvidia board partner Colorful has introduced a new and insane custom design of the RTX 2080 Ti. The Colorful iGame GeForce RTX 2080 Ti Kudan is probably one of the most striking designs ever. Like some other board partners, the manufacturer relies on a hybrid cooling solution. The graphics card has a three-slot cooler with three fans. In addition there is a 240 mm All in One water cooler. Both elements are connected via a vapor chamber cooler located above the GPU chip and GDDR6 memory. Directly above the radiator there is a cooling block, which is cooled with the water of the radiator. With six heatpipes, the heat is also transferred to aluminium fins, which are actively cooled by three axial fans. This should make the heat dissipation out of the box outstanding. Quick-release connectors are installed for better installation of the radiator. Buyers can connect the tubes either on the side or on the bottom of the graphics card.
The technical data is also very complicated. Three 8-pin connectors are installed for maximum overclocking capability. Colorful does not state how high the power target is. The boost clock of the iGame GeForce RTX 2080 Ti Kudan is 1,815 MHz. Only the Zotac GeForce RTX 2080 Ti AMP Extreme achieves such a clock rate out of the box. However, the GDDR6 memory continues to clock at 7,000 MHz. Colorful uses the well-known Kudan design in a steampunk look. The golden gears on the fan cover and other golden elements are striking. In addition, the company naturally also uses RGB lighting elements and an LC display for information or own graphics.
Price: $3,000, but comes with case
The Colorful iGame GeForce RTX 2080 Ti Kudan might not be something for everyone in terms of price. A Chinese retailer is already calling up a price of a good 20,000 Chinese Yuan, which is equivalent to a good $3,000. The GPU is therefore more expensive than a Nvidia Titan RTX. In return, buyers receive a 1,000-piece limited and numbered graphics card. The packaging also matches the price tag. Colorful delivers the graphics card in a black trolley. The GeForce RTX 2080 Ti Kudan competes directly with high clocked custom designs from other manufacturers such as Asus, EVGA or MSI.