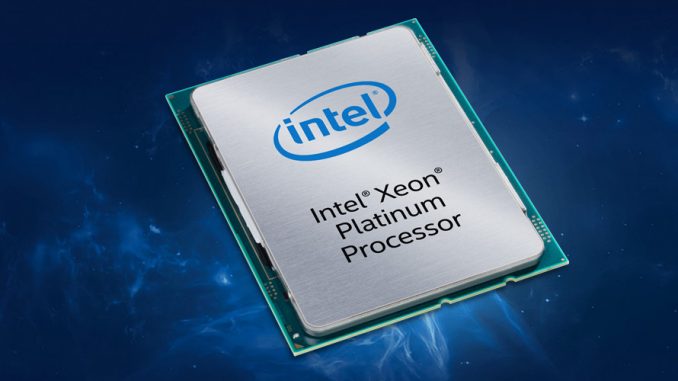 Intel is currently working on the launch of the new Cascade Lake processors. They will succeed Skylake and Skylake-X and start in April and at Computex 2019.
Cascade Lake: one last time 14nm
Intel is currently preparing the launch of a new processor architecture called Cascade Lake. This will finally succeed Skylake in the server sector and will also bring new products into the HEDT sector. Cascade Lake will use the 14nm process for the last time before it is finally replaced by 10nm.
With the new architecture, Intel is again relying on significantly more cores. The Xeon Platinum 8180 currently has the highest core count with 28 units. With Cascade Lake, up to 48 cores will be possible in two dies. Intel is now also using a multi-chip design, as AMD has already done with Epyc and Ryzen. With Cascade Lake and new Xeon processors, the company is generally preparing against AMD's new Epyc processors. Epyc 2 alias Rome uses Zen 2, 7nm and a new chip structure. Small 7nm dies sit around a larger management chip that takes over memory management and serves as an I/O hub. Thus Epyc 2 has up to 64 cores.
Cascade Lake-X brings architecture to the consumer market. Here Intel allegedly plans a successor of the current Skylake-X or Skylake-X Refresh processors. Whether more cores will be used here is unclear, but the socket 2066 should remain. A new leak now reveals dates for the launch.
Launch in April and at Computex
The Chinese Chiphell Forum recently featured an entry by a user who has been known for true leaks in the past. Accordingly, the new chip generation will start relatively soon. The server processors are the first to start. Cascade Lake will be released at an Intel event in April. Cascade Lake-X has a more prestigious date. The launch will take place at Computex 2019. Last year Intel presented the 28-core Xeon W-3175X there as well. A launch at Computex can also get in the way of AMD. The Ryzen 3000 series with up to 16 cores will be presented either at the Taiwanese exhibition or at an event on the 7th of July.