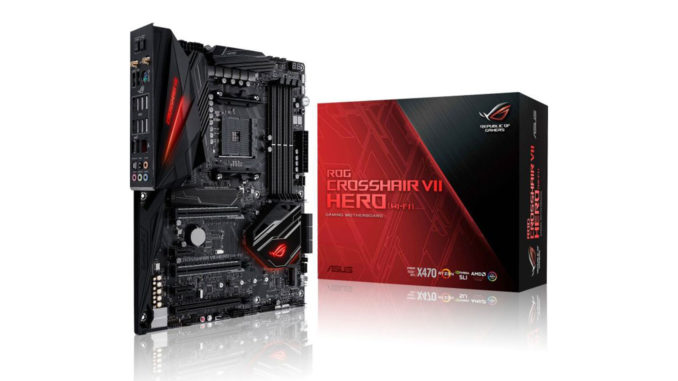 The new Ryzen 3000 series will start soon. A new leak shows that Asus is planning 12 X570 mainboards for launch and is expanding the ROG Crosshair series.
X570 gets PCIe 4.0
AMD's new processor generation Ryzen 3000, codenamed Matisse, will be launched in the middle of the year. It not only brings the 7nm structure width into the processors, but also new features. Although the old motherboards are still compatible, they definitely do not support one of the new features: PCIe 4.0. AMD supports the new connection standard starting with Zen 2, which is twice as fast as PCIe 3.0. In addition to Epyc 2, Ryzen 3000 is the first mainstream platform ever to receive the new standard. But you will need new motherboards.
AMD is of course planning new mainboards for the launch of Ryzen 3000. The high-end chipset bears the name X570 and is the only known chipset for the new series to date. It is to be based on an AMD-own design and no longer on a solution of ASMedia. It is highly likely that the processor manufacturer will later update the B450 series with a B550 chipset. The A320 chipset, which was already left empty-handed in Ryzen 2000, could also be updated. The mainboard manufacturers are already working on corresponding mainboards, as a new leak now confirms.
Asus plans 12 X570 mainboards and expands ROG Crosshair series
The well connected colleagues at Videocardz have received a list of new motherboards from internal sources at Asus. There are 12 models with an X570 chipset that the company is currently planning:
Asus ROG Crosshair VIII Formula
Asus ROG Crosshair VIII Hero
Asus ROG Crosshair VIII Hero (Wi-Fi)
Asus ROG Crosshair VIII Impact
Asus ROG Strix X570-E Gaming
Asus ROG Strix X570-F Gaming
Asus ROG Strix X570-I Gaming
Asus Prime X570-P
Asus Prime X570-Pro
Asus Pro WS X570-Ace
Asus TUF Gaming X570-Plus
Asus TUF Gaming X570-Plus (Wi-Fi)
What is striking is that Asus is significantly expanding the ROG Crosshair series for the first time. Earlier series had only one or two ROG Crosshair Hero Mainboards, which is a bit lean compared to the eight models of the comparable ROG Maximus series for Intel's Z390 chipset (Extreme, Formula, Code, Apex, Hero/Hero Wi-Fi/Hero Call of Duty – Black Ops 4 Edition and Gene). With the increasing popularity of Ryzen processors, Asus apparently sees a market for different motherboards here as well. According to Videocardz there are the models Formula, Hero, Hero (Wi-Fi) and Impact. In addition, the company is also planning the E, F and I models of the ROG Strix series, already known from the previous X470 series, a Prime X570-P and a Prime X570-Pro as well as two TUF Gaming X570-Plus, one with and one without WLAN. For workstations, there should also be the Asus Pro WS X570-Ace.
ASRock-Mainboards already leaked too
Also mainboards of the manufacturer ASRock have already appeared at the EEC. According to the list, these are four models of the Pro4 series, one Extreme4 mainboard, one Taichi mainboard and three Phantom Gaming mainboards. Thus ASRock would have completed the change from Fatal1ty to Phantom Gaming on the motherboards as well. The top model is probably the ASRock X570 Phantom Gaming X.

It is not yet known when the mainboards will be presented to the public. It is possible, however, that the Computex 2019 in Taipei will already be the day. Another leak mentions July 7th as the joint launch date of Ryzen 3000, X570 and Radeon Navi. But it won't be long now.